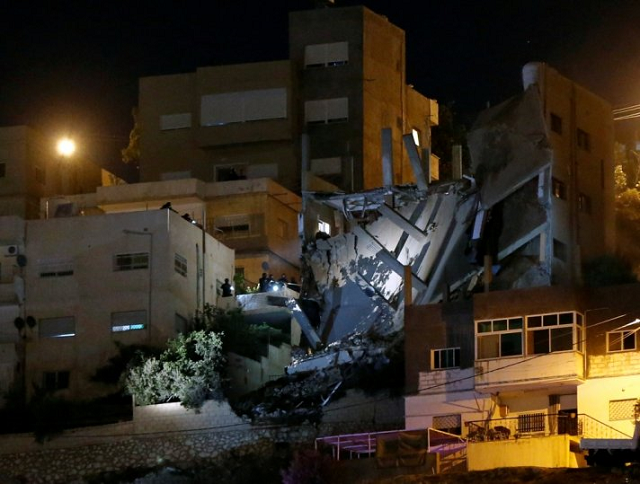 ---
AMMAN: Jordanian security forces have killed three 'terrorists' and arrested five others during a raid after an officer was killed in a bomb blast near the capital, the government said Sunday.

Three members of the security forces also died in Saturday's raid, which came after the home-made bomb exploded under a patrol car at a music festival.

A joint unit of special forces, police and army troops raided a house in the town of Salt northwest of Amman in search of a suspected "terrorist cell", government spokesperson Jumana Ghneimat said.

Three members of the security forces were killed in a shootout with gunmen holed up in a building, she said.

"The suspects refused to surrender and opened heavy fire toward a joint security force," Ghneimat said in a statement.

The suspects also "blew up the building in which they were hiding, and which they had booby-trapped earlier", she said.

In an update early Sunday Ghneimat said that the three bodies as well as automatic weapons were found under the rubble of the building, a four-storey block of apartments.

She added that two other 'terrorists' were arrested, bringing the total number of people detained in Salt since Saturday to five.

There was no immediate claim of responsibility for Friday's bomb blast, which also wounded six other members of the patrol in Al-

Fuhais, a mostly Christian town west of Amman.

The identities of the suspects were not known.

Jordan protesters press on, some unions strike after new PM appointed

One of the members of the security forces wounded during the raid was in "critical condition", Ghneimat said

"A clean-up operation is still under way," she said, adding that units of the civil defence were at the scene to assess the damage at the building and sift through the rubble.

Ghneimat urged civilians to stay away, warning that "it could totally collapse at any minute".

Medical sources said that 11 people were wounded during the raid, including members of the security forces and civilians.

Women and children were among those hurt, they said, without giving further details.

Jordanian television broadcast footage of the partially collapsed building and security forces conducting search operations.

Ambulances, bulldozers and police cars were deployed around the building in the Naqab al-Dabour residential neighbourhood in Salt, the footage showed.

The government set up a crisis cell to follow the developments, the state-run Petra news agency reported.

Prime Minister Omar al-Razzaz, who chaired the meeting, vowed Saturday that Jordan would "not be complacent in the hunt for terrorists".

Hundreds of Syrian 'White Helmets' evacuated by Israel to Jordan--reports

Prime Minister Omar al-Razzaz, who chaired the meeting, vowed Saturday that Jordan would "not be complacent in the hunt for terrorists".

Bomb blasts targeting security forces are rare in Jordan, although the tiny desert kingdom has had to struggle with a rise in Muslim fundamentalism in recent years.

Jordan has played a key role in the US-led coalition fighting the Islamic State group in neighbouring Syria and Iraq, using its air force against the jihadists and allowing coalition forces to use its bases.

The kingdom was hit by a string of attacks in 2016, including a shooting rampage claimed by IS that killed 10 people including a Canadian tourist in Karak, known for its Crusader castle.
COMMENTS
Comments are moderated and generally will be posted if they are on-topic and not abusive.
For more information, please see our Comments FAQ