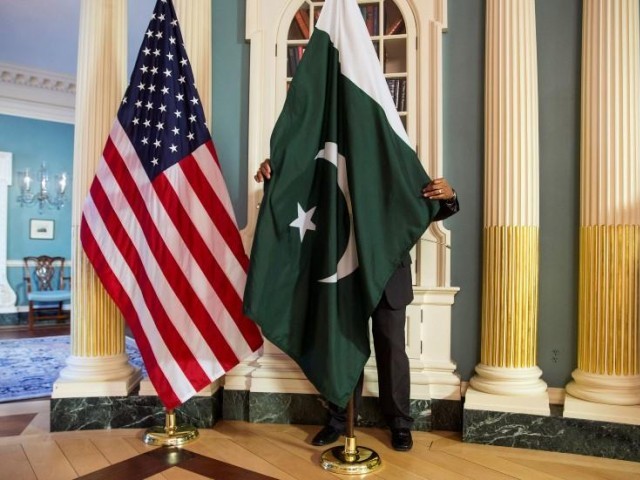 ---
KARACHI: A bipartisan group of 16 US senators has expressed concern over potential bailout requests to the International Monetary Fund (IMF) by countries who have accepted "predatory Chinese infrastructure financing".

In a letter addressed to Treasury Secretary Steven Mnuchin and Secretary of State Mike Pompeo, the senators have asked how the Trump administration plans to address "the dangers of China's Belt and Road Initiative (BRI)".




The China-Pakistan Economic Corridor (CPEC) is a part of BRI, and involves billions of dollars worth of infrastructure development and establishment of energy projects in Pakistan. However, the development has also involved China extending loans to Pakistan as Islamabad battles to save itself from a balance of payments crisis due to a widening current account deficit.

IMF dismisses talk of denying Pakistan bailout

The letter notes that in 2016, the IMF agreed to give a $1.5 billion bailout to Sri Lanka due to "unsustainable debts to China", and that the island's inability to pay off loans to build Hambantota Port led to a Chinese state company being given a 99-year lease on the facility.

It goes on to mention recent reports that the "incoming government of Pakistan will pursue an IMF bailout in part due to rising current-account deficit and external debt obligations caused by…CPEC". It then refers to BRI as "debt-trap diplomacy" and as a "national security threat…to the United States".

"There are concerns that given Pakistan's growing Chinese debt, the same could happen at Gwadar Port. In China's 'String of Pearls' strategy for the Indo-Pacific, Gwadar and Hambantota are important footholds that if converted into naval bases will enable the PLA Navy to maintain a permanent presence in the Indian Ocean," the letter says.




"As financially strapped countries negotiate with China to free themselves of mounting debt, Beijing has extracted onerous concessions, including equity in strategically important assets," the senators wrote. "Further, Beijing has repeatedly used economic pressure to affect foreign policy decisions…It is apparent that…the goal for the [Belt and Road Initiative] is the creation of an economic world order ultimately dominated by China. It is imperative that the United States counters China's attempts to hold other countries financially hostage and force ransoms that further its geo-strategic goals."

IMF, finance ministry way off on Pakistan's economic misery

Specifically, the letter asks Secretary Mnuchin and Secretary Pompeo six questions. How they "plan to raise the dangers of Chinese infrastructure financing through BRI with the IMF", and if the two secretaries "believe that additional countries will ask for a bailout from the IMF due to BRI", while also asking them to identify any such countries.

It goes on to ask if the US "as the largest contributor to the IMF… can use its influence to ensure that bailout terms prevent the continuation of ongoing BRI projects, or the start of new" ones.

"How can the United States work with allies and partners to educate countries about the risks of Chinese infrastructure loans," and how can the US "work with allies and partners to assist countries struggling to repay debts due to BRI" are two more questions. The letter also asks for an answer to how the US can "work with allies and partners to present an alternative to developing nations regarding investment and infrastructure funding".

The letter cites a Center for Global Development estimation that 23 of the 68 countries currently hosting BRI-funded projects are at risk of debt distress, while in eight of those countries, "future BRI-related financing raises serious concerns about sovereign debt sustainability".

Citing the study, it also complains that China does not follow the disciplines and standards that other major sovereign and multilateral creditors have adopted, "and in the process, debt levels and dependence on China are rising."

It claims Beijing uses this debt to extract "onerous concessions, including equity in strategically important assets", while also influencing the borrowers' foreign policy decisions.

The examples of Djibouti in Africa and Montenegro in Europe are also given as examples of the spread of BRI projects and related Chinese influence.

The letter was signed by U.S. Senators David Perdue (R-GA), Roy Blunt (R-MO), John Cornyn (R-TX), Tom Cotton (R-AR), Ted Cruz (R-TX), Steve Daines (R-MT), Joe Donnelly (D-IN), Cory Gardner (R-CO), Chuck Grassley (R-IA), James Inhofe (R-OK), Johnny Isakson (R-GA), John Kennedy (R-LA), Patrick Leahy (D-VT), Marco Rubio (R-FL), Dan Sullivan (R-AK), and John Thune (R-SD).