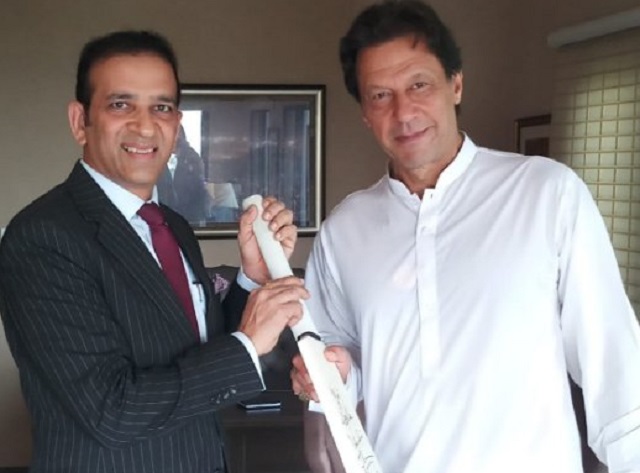 ---
ISLAMABAD: PM-in-waiting Imran Khan on Friday called for the resumption of stalled dialogue process between Pakistan and India to discuss all outstanding issues, including the Kashmir dispute.

His made the pitch for peace during a meeting with India's High Commission to Islamabad Ajay Basaria, who called on the Pakistan Tehreek-e-Insaf chairman to congratulate him over his election victory at latter's residence in Bani Gala.

A handout issued by Tehreek-e-Insaf's media wing said Basaria felicitated Imran over his party's win in the general elections on July 25.

Senior PTI leaders, including Shah Mehmood Qureshi, who is likely to be foreign minister, Fawad Choudhary, Dr Shireen Mazari, Dr Shehzad Waseem and Naeemul Haq were also present in the meeting.




The statement said Imran discussed the need to restart dialogue between Pakistan and India on all outstanding issues, including Kashmir.

He expressed concern over human rights violations in Occupied Kashmir. Imran also expressed hope that the Saarc (South Asian Association for Regional Countries) summit would be held soon in Islamabad.

In his remarks, the Indian envoy said there was 'new optimism' in India following the telephonic conversation between Pakistan's Prime Minister-designate and India's Prime Minister Narendra Modi.

He said there was a new optimism in India that relation would move forward positively.

The PTI chairman welcomed the positive message conveyed by the Indian high commissioner on behalf of his government and reiterated his hope for both countries to move forward for the betterment of the people of the subcontinent.

The Indian high Commissioner also presented Imran with a cricket bat signed by the Indian cricket team.

In his victory speech, Imran had offered India to resolve all issues through talks and even said he was ready to take two steps if India takes one for the normalization of relationship between the two countries.

Modi phone call rekindles hope of thaw

Relationship between Pakistan and India remained tense for the last many years despite a promising start when Modi invited his then Pakistani counterpart Nawaz Sharif on his oath-taking ceremony in New Delhi in May 2014.

There were certain occasions when the two sides were close to the resumption of full-fledged dialogue. But trust deficit triggered by certain incidents on both sides of the border had prevented the two neighbours from moving towards any rapprochement.

The resumption of the dialogue process became even more difficult during the fag end of Sharif's tumultuous four-year in office as his political opponents -- including Imran -- often accused him of being too soft on Modi and his aggressive policies towards Pakistan. But now it appears that Imran is following in the footsteps of Sharif by suggesting a rapprochement.

Observers believe that given his economic reforms agenda and vision, the PTI leader cannot afford confrontation with Pakistan's immediate neighbours, including India.

Modi offers Imran 'new beginning' in ties with Pakistan

Therefore, Imran is likely to give peace a chance even though issues between the two countries are so intricate that may require the two sides to go for out-of-the-box solutions.

Imran has also an advantage for the simple reason that he is not viewed with suspicion -- at least for now-- as compared to Sharif.

But his any foreign policy move, particularly towards India, will certainly be closely scrutinised by his critics and the media given his past statements.

The other challenge for him is whether he would have a say on foreign policy -- including ties with India -- given the fact that Sharif had developed serious differences with the security establishment on the very same question.
COMMENTS (2)
Comments are moderated and generally will be posted if they are on-topic and not abusive.
For more information, please see our Comments FAQ