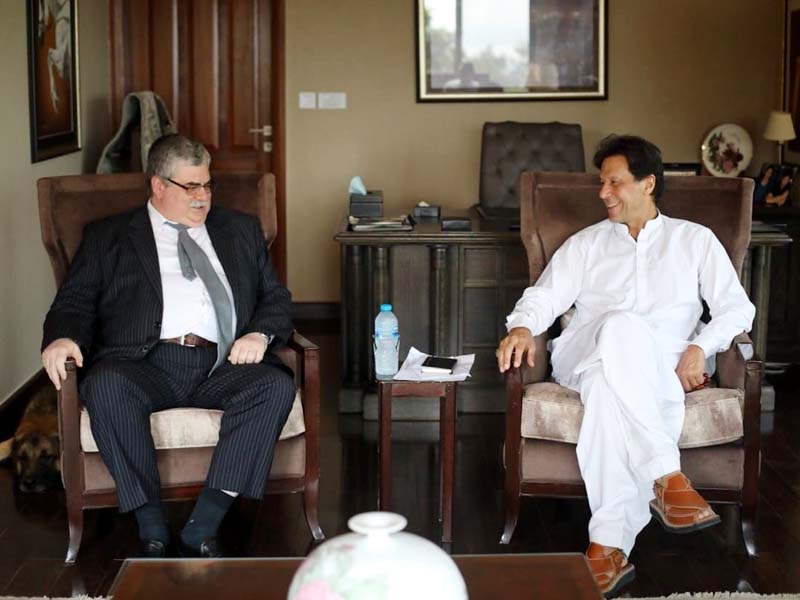 ---
ISLAMABAD: Russian ambassador to Pakistan Alexey Dedov on Thursday called on prime minister-in-waiting Imran Khan at his Bani Gala residence where he stressed the need for improved ties between the two countries.

Dedov said that the military exercises between the two countries had been successfully conducted in 2017 and 2016.

The envoy was also grateful to the Pakistani pilots who saved a Russian climber's life trapped on the Karakoram range's peak recently.

The Russian ambassador conveyed that Moscow wishes to improve relations with Pakistan. He said that Russia wants to foster economic cooperation and people-to-people contact as well.

Moscow stands by Islamabad in the fight against terrorism and its efforts to maintain peace in Afghanistan, he added.

While Pakistan Tehreek-e-Insaf (PTI) supremo Imran Khan said that the Pakistan also wants to improve bilateral ties with Russia.

Interim US envoy meets PTI chief

He invited Russian drilling companies to start their operations in the country.

Imran said that the US administration has now come to a realisation that there is no military solution in neigbouring Afghanistan.

The meeting comes in the wake of both countries reaching a historic agreement on August 7 which allows officers from the country's armed forces to train in Russia.

According to the US-based publication, the Russians are keen to step in and fill the gap which the United States has created after halting security-related aid to Pakistan.

The deal was concluded at the end of the inaugural meeting of Russia-Pakistan Joint Military Consultative Committee in Rawalpindi, citing a statement from the defence ministry.
COMMENTS
Comments are moderated and generally will be posted if they are on-topic and not abusive.
For more information, please see our Comments FAQ