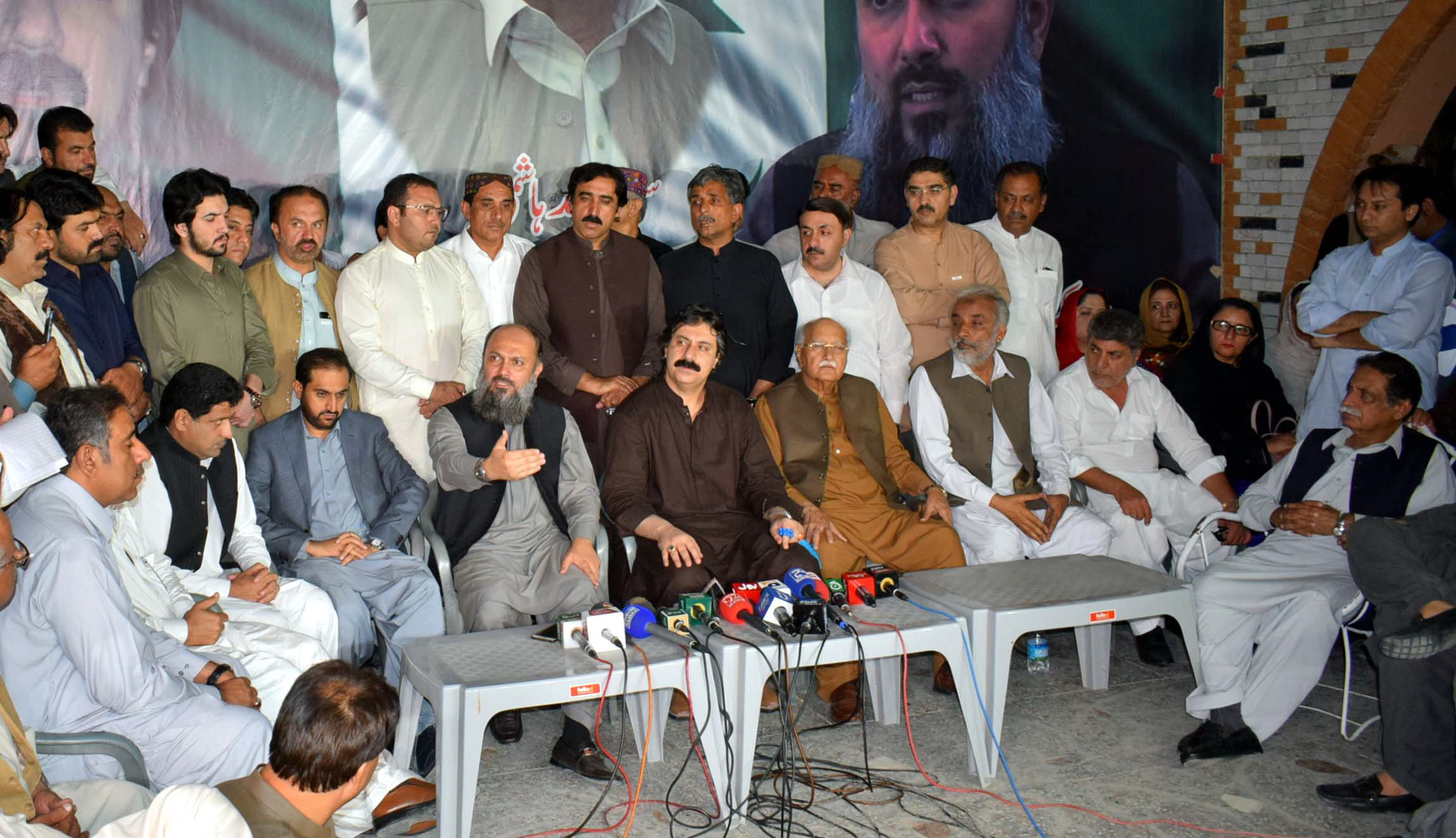 ---
QUETTA: The Balochistan Awami Party (BAP) has nominated its president Jam Kamal as the parliamentary leader and former chief minister Abdul Quddus Bizenjo as the Balochistan Assembly speaker.

"The decision about deputy speaker and other ministries shall be taken after consultation with allied parties," said BAP General Secretary Manzoor Kakar while addressing a press conference on Friday night.

Foreign forces out to destabilise Pakistan: BAP leaders

Kakar said, "BAP will support Pakistan Tehreek-e-Insaf at the Centre, while PTI will support BAP in the provincial assembly."

The BAP GS said decisions for the development and prosperity of Balochistan would be made with uniform measures.

"The decision to this effect has been taken after thorough discussions during a party session that was held here," he said, adding that all decisions were taken in line with democratic norms.

He was of the view that the BAP had taken to the field with a democratic ideal in mind, vowing that the confidence placed by the masses in its leadership would not be betrayed.

"Our vision is clear. We want development and prosperity of Balochistan," he said, adding that the task would be met with the assistance of all allied parties.

He said that the party's policies would be clear in the coming few days, adding that Jan Jamali was also a strong candidate for the slot of the Balochistan Assembly speaker but he withdrew in interest of the party.

Void created by Siraj's martyrdom cannot be filled: BAP

Clearing the air about decisions not being made in the province, Kakar said, "Decisions about Balochistan were not taken at Bani Gala, they were all taken in the province following thorough consultations. When Imran Khan arrived in Quetta to offer his condolences for the Mastung incident in which Siraj Raisani was martyred, BAP decided to ally itself with PTI."

He said negotiations had taken place with MMA and BNP-Mengal. "Hopefully they will also join the government and play their roles for the development of the province," Kakar added.

He claimed that BAP had the required majority; however, it "is ready to take decisions in the interest of the masses".

On the occasion, BAP President Jam Kamal said, "No agreements for two-and-a-half years have taken place. We have held meetings with Maulana Abdul Ghafoor Haideri, Maulana Faizullah and Akhtar Mengal and they have told us clearly that they are allied with the JUI-F and will not leave them alone in any case."

He said the people who were deprived of basic facilities were irked and BAP would make efforts to bring ease in their lives by providing the basic facilities of life.

He said that anyone who wanted to work within the ambit of law, their government would be ready to negotiate.
COMMENTS
Comments are moderated and generally will be posted if they are on-topic and not abusive.
For more information, please see our Comments FAQ