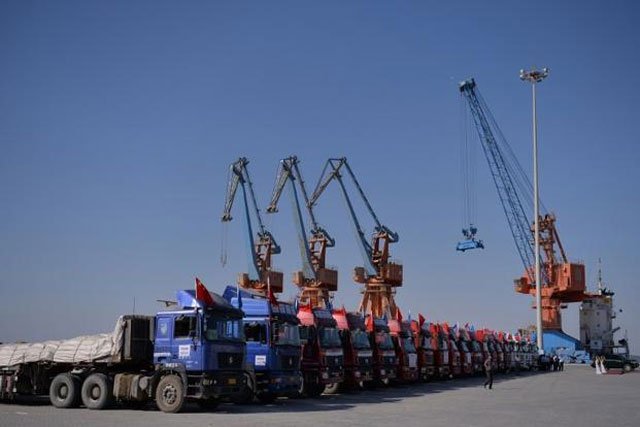 ---
China wants to see Pakistan a developed and prosperous country, said Chinese Ambassador Yao Jing.

"CPEC demonstrates our commitment and support to Pakistan," Jing said at the launching ceremony of Sustainable Development Policy Institute's (SDPI) China Study Centre in Islamabad.

China Pakistan Economic Corridor (CPEC) is not the only determinant of Pakistan-China relationship, "our relationship is historic which last over decades."

He said that the governments as well as people of both China and Pakistan are committed to further strengthen the ties.

While the Chinese envoy said: "Our relationship with Pakistan is of mutual cooperation and not competition," Caretaker Minister of Finance Dr Shamshad Akhtar speaking on the occasion asserted that Pakistan should take maximum advantage from one time opportunity of CPEC, which could open up more corridors of cooperation in the region and the world.

Dr Shamshad said the centre could help bridge the policy-research gap. She hoped the centre will produce high quality research for informed policy making.

SDPI Executive Director Dr Abid Qaiyum Suleri said that Pakistan's relations with China are beyond CPEC. He said that to understand the relationship between Pakistan and China, there is a need to understand China's policy of engagement with the world, China's vision behind Belt and Road Initiative (BRI), and China's policy of overcoming poverty and corruption.

He said that there is dearth of knowledge and most of the discussions around CPEC and Pak-China relationship lack evidence. He said the centre will produce evidence based knowledge to bridge the policy research gap.

World Bank ex-regional advisor economic corporation Haroon Sharif said that focusing just on large infrastructure projects can lead to regional disparity and inequality, which need to be addressed. He said both the governments of China and Pakistan must prioritise the development goals in CPEC and should enhance focus towards social sector, agriculture and industry and energy sector.

There is an emergence of new connectivity and market of more than 700 million people in South Asia, Central Asia and China, which the world cannot ignore and need to be considered by both Pakistan and China, he added.

Published in The Express Tribune, August 3rd, 2018.
COMMENTS
Comments are moderated and generally will be posted if they are on-topic and not abusive.
For more information, please see our Comments FAQ