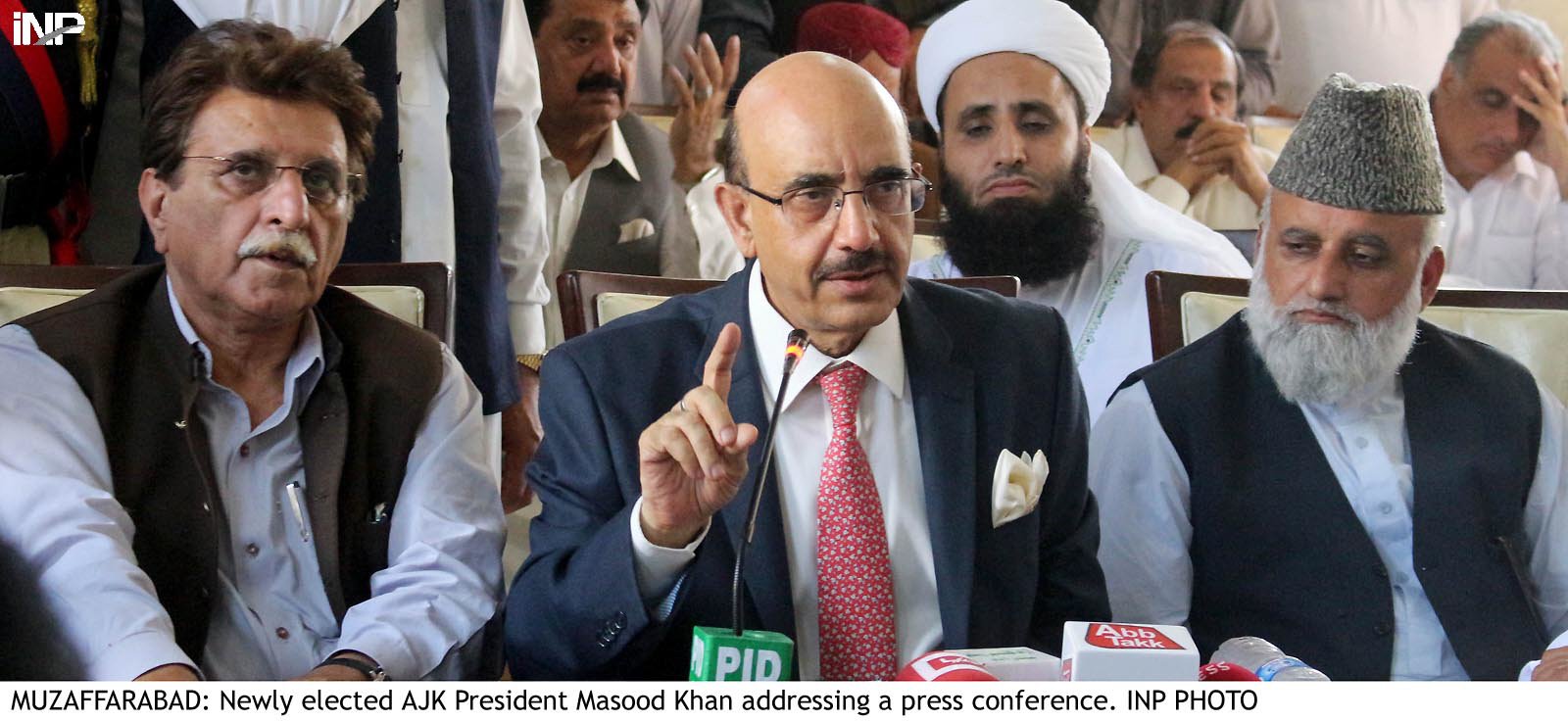 ---
MUZAFFARABAD: The 15th death anniversary of Azad Jammu and (AJK) Kashmir Ghazi-i-Millat founding president Sardar Ibrahim Khan was observed across AJK on Tuesday.

The anniversary was observed with a pledge to carry forward his mission to liberate Kashmir from Indian subjugation and make it a part of Pakistan.

There was a public holiday throughout AJK to mark the death anniversary of the renowned Kashmir freedom movement leader who died on July 31, 2003 after serving as the president of the state for four terms.

Three decades on, 'new age freedom fighters' fuel Indian-held Kashmir conflict

Special ceremonies were held in various parts of the AJK to pay tributes to the leader for his historical role in Kashmiris' struggle for their right to self -determination.

In Muzaffarabad, AJK PM and members of his cabinet addressed a function held at Central Press club to pay homage to Ibrahim.

Earlier in their separate messages, President Sardar Masood Khan and Prime Minister Raja Farooq Haider Khan termed Ibrahim as an epoch-making leader of Kashmir who was instrumental in declaring war against Maharaja Hari Singh's forces and liberating one-third of Kashmir.

President Masood in his message said Ibrahim had not only practically participated in the freedom struggle of Kashmir but also chaired the historic meeting at Srinagar that passed the resolution of Kashmir's accession to Pakistan in 1947.

"The best tribute to our founder leader is to dedicate all our abilities for strengthening and reinforcing Kashmir liberation struggle while adhering to his principles and thoughts," Masood said.

Addressing all invited political forces, Prime Minister Haider said that everyone should get united on one platform to materialise the dream of Ibrahim.

He expressed his hope that new government in Pakistan would adopt an aggressive policy on Kashmir to defeat New Delhi's negative propaganda at diplomatic front.

Hafiz Saeed hails UN report on held Kashmir human rights violations

He said that Kashmir is not a bilateral issue between India and Pakistan, rather it was a question of the future of 15 million people of Kashmir who seek their inalienable right to self-determination.

Ibrahim was born on April 10, 1915 in Kot Mattay Khan, a village in the Poonch District of Kashmir. He received his primary education in his village after which he graduated from Islamia College Lahore with B.A. degree in 1935 and went for higher education abroad in 1938.

He obtained his LLB degree from the University of London in 1943. Later, he obtained a law degree from Lincoln's Inn and started practising law in Srinagar, Kashmir. He was the founder and first Azad Kashmir president. He represented Kashmir in different capacities at the United Nations from 1948 to 1971.


COMMENTS
Comments are moderated and generally will be posted if they are on-topic and not abusive.
For more information, please see our Comments FAQ