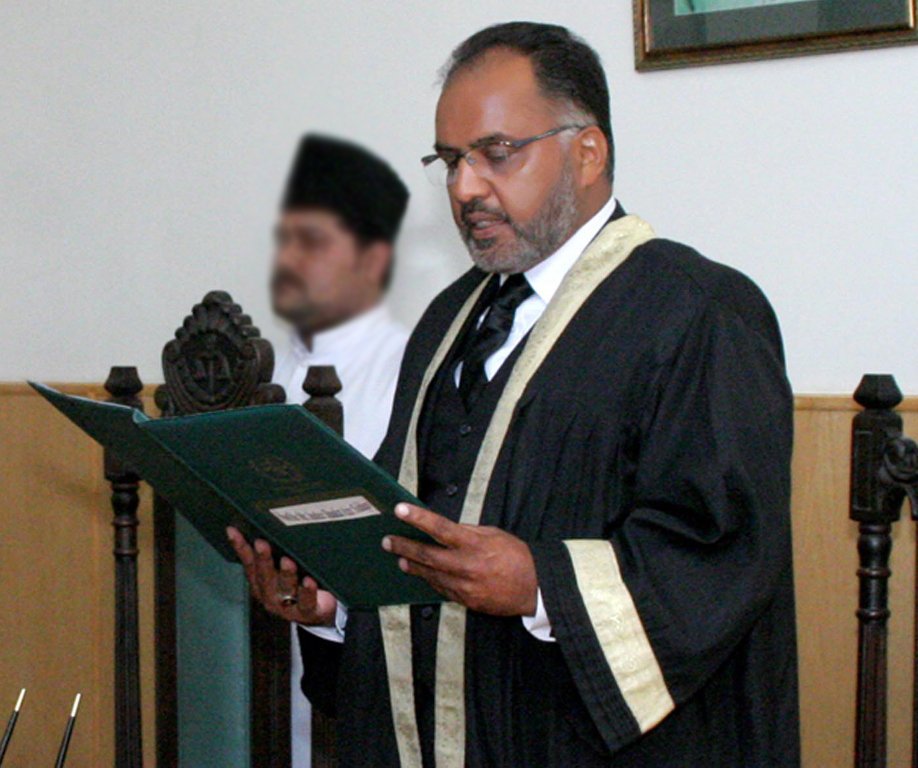 ---
ISLAMABAD:

An unpleasant scene was witnessed in the Supreme Judicial Council hearing on Tuesday when a lawyer, who is continuously pursuing cases related to Lal Masjid, objected to Chief Justice of Pakistan Mian Saqib Nisar hearing the complaint of alleged misconduct against Islamabad High Court Judge Justice Shaukat Aziz Siddiqui.

Advocate Tariq Asad, appearing before the council, objected that he had filed a reference against the chief justice of Pakistan for his involvement in several incidents of misconduct; therefore, he should not be sitting in the council until the decision is passed on the complaint.

The counsel also alleged that the case against Justice Siddiqui has been fixed and heard at the behest of intelligence agencies, adding that the chief justice "is not independent".

IHC tells army, ISI chiefs not to intrude in other depts

However, Justice Gulzar Ahmad intervened and said that his complaint is not before them.

"Thanks for your information. Sit down, now", says another member of SJC Justice Asif Saeed Khosa.

Later, the SJC, resuming second open hearings on the alleged misconduct against IHC judge on Tuesday, deferred the proceedings for indefinite period.

On Monday, the five-member SJC led by Chief Justice of Pakistan Mian Saqib Nisar showed its determination to decide the matter within three days but it was compelled to postpone the proceedings on the recommendation of Attorney General for Pakistan Khalid Javed Khan.

The AGP submitted that documents were compiled by special prosecutor Maulvi Anwarul Haq, who is not in the country these days.

The AGP said that even if the court records statements of all witnesses, he will not be able to argue the case because he will be resigning soon. He also stated that he could not give arguments on the case which is prepared by someone else.

Khan further requested the council to adjourn the hearing until Haq's return to the country by first week of August. Justice Siddiqui's counsel, Hamid Khan, stated that his client will not be available from August 9 to 22.

Likewise, Hamid Khan also stated that they are going to challenge the council's previous order regarding the rejection of their plea, seeking direction about the summoning of the Capital Development Authority (CDA) in the apex court under Article 184(3) of the constitution.

He stated that they do not want to give the impression that they are delaying the matter, therefore, their petition must be fixed today (Wednesday).

Likewise, the chief justice made it clear that the SJC proceedings are not judicial but administrative in nature.

Hearing both sides, the council adjourned the hearing for an indefinite period.

It has been witnessed that a number of lawyers belonging to PML-N, the Jamaat-i-Islami and Iftikhar Muhammad Chaudhry's party were present in the courtroom to observe the proceedings. IHC judge himself was present in the hearing.


COMMENTS
Comments are moderated and generally will be posted if they are on-topic and not abusive.
For more information, please see our Comments FAQ