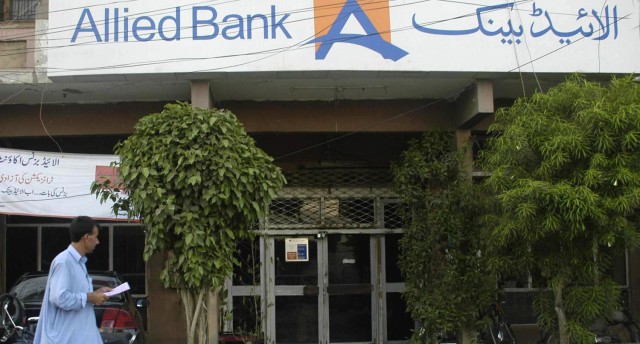 ---
KARACHI: Marking the second and third bank robbery of this month, dacoits escaped with Rs5 million from two banks on Monday.

In the first incident, three bandits broke into the Tauheed Commercial branch of Allied Bank Limited and within 15 minutes, stole Rs3 million and escaped.

The police and bank employees suspected the involvement of the security guard, Mumtaz, who has been missing since the robbery. Mumtaz, who hailed from Chakwal, had been deputed at the bank some two months ago by a security agency that had been paid to provide services to the bank. According to the agency's records, he had joined them two years ago.

Meanwhile, the branch manager told the police that according to the neighbours, the security guard had arrived on duty at 8 am. After about 30 minutes, three men arrived at the bank and took the staff hostage with the help of the security guard, claimed the police.

Police officials told The Express Tribune that the security guard, who has not even completed secondary education, was shrewd enough to switch off all the security cameras within the premises of the building. "No video footage has been received as all the CCTV cameras had been switched off," said SHO Clifton police station Yaseen Gujjar. The police have started looking for the security guard and through him, the other three criminals can be arrested, Yaseen added.

The police have lodged an FIR (150/10) on the complaint of the bank manager.

Gulberg bank robbery

During the second bank robbery, three criminals robbed Rs2 million from another branch of Allied Bank, located in Kareemabad, Gulberg.

The robbery took place within three minutes. "They entered at 4:32 pm and left at 4:35 pm with the money," said branch manager, Muhammad Asif. "They took their positions, ordered the staff to remain silent and took all the cash. One of them shifted the money into their vehicle while the other two remained on guard and left at the end," he said while describing the incident.

The video footage received through CCTV cameras show three men - two wearing trousers and button-down shirts and the third one in shalwar kameez. In this case, they used a car, said police officials.

According to DSP Gulberg Zafar Shah, the police received CCTV footage that would help them in arresting the criminals.

In 2010, more than Rs2 billion have been stolen from different banks in the city. Security agencies and the Citizens-Police Liaison Committee believe that the stolen money is transferred to the lockers of banned militant outfits. So far, the police have claimed to arrest suspects involved in only one of the seven robberies.

When asked whether the dacoits in both of Monday's robberies were the same, DSPs of Clifton and Gulberg said that they could not claim that as there was no CCTV footage of the first robbery.

Published in th Express Tribune, June 1st, 2010.