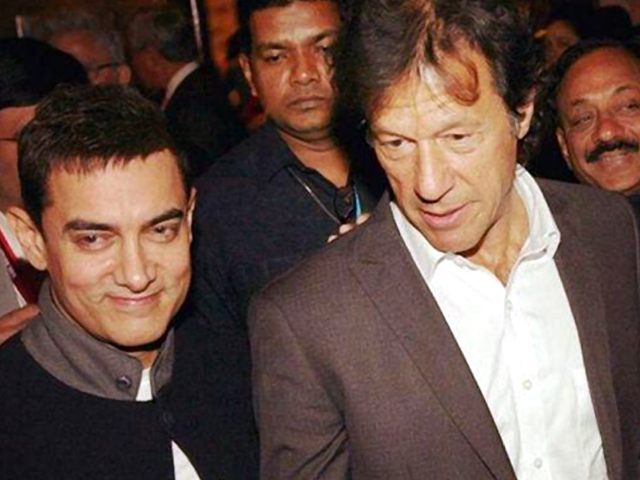 ---
Bollywood's Mr Perfectionist, Aamir Khan had promised the recently elected Prime Minister in waiting Imran Khan that he would visit Pakistan if the latter won the 2018 General Elections.

In a throwback video, the Dangal star lauded Imran's efforts for a 'Naya Pakistan'. Now that PTI has swept the elections, Pakistanis are anxiously waiting for the actor to make good on his promise.


@aamir_khan I think it's time :). https://t.co/EF0t5mPkf5

— Ali Zafar (@AliZafarsays) July 26, 2018
Imran khan invited Aamir khan, after that He promised that he would come to celebrate Imran khan's win. Nation has choosen @ImranKhanPTI the PM of Pakistan. Now it's time to remember you! Your Promise :)
you are very welcome to Pakistan 🇵🇰@aamir_khan #ElectionPakistan2018 pic.twitter.com/GgYAEpMdyV

— Usama butt 🇵🇰 (@usamabutt95_) July 26, 2018
Pakistani fans request Bollywood star Aamir Khan to visit the country to join celebrations as PTI chairman Imran Khan is set to become the next PM of the country, after the actor promised to Imran that he will visit Pakistan once he becomes the PM of Pakistan #PakRemindsAamir pic.twitter.com/mumDNn3HDX

— TIMES NOW (@TimesNow) July 29, 2018
@aamir_khan hi sir will you keep your promise? A reminder about your promise with @ImranKhanPTI on his Oath ceremony of #Pakistan_Prime_minister pic.twitter.com/H299QPXew1

— Saif Ullah (@m4gr8) July 30, 2018


Back in 2012, when Imran was a guest at a media event in India, Aamir said, "The ideology that you preach, the dream that you have (for Pakistan), I pray that you succeed in it. I hope to see a government in Pakistan, which will actually solve the imperative issues faced by the country. And I know that you will come out victorious because you have been struggling for years."

He continued, "When you began your journey, I know that you faced many issues and hurdles that came your way but you stood against them. You're firm in conviction and you're still at it."

Imran responded saying, "You have to visit Pakistan if that happens!" to which Aamir replied, "I will! And I will bring a lot of Indians with me. We will celebrate your win in Pakistan."

We're hoping Aamir pays a visit to Pakistan soon!

Have something to add to the story? Share it in the comments below. 
COMMENTS (5)
Comments are moderated and generally will be posted if they are on-topic and not abusive.
For more information, please see our Comments FAQ