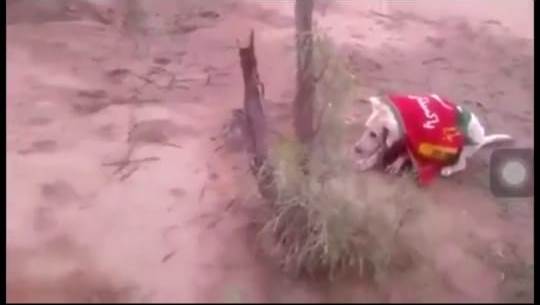 ---
PESHAWAR: Bannu Police have arrested culprits involved in the killing of a dog draped in a Pakistan Tehreek-e-Insaf flag.

The K-P police stated, in a tweet, that the individuals involved in the brutal act were arrested earlier on Saturday responding within twelve hours of the report.


Responding within 12 hours, #Bannu Police worked throughout the night to arrest 2 culprits at 6:45am involved in torturing, killing the animal and making video of it. #KPPolice thanks Social Media users for raising the issue. pic.twitter.com/0SDSYEgAu9

— KP Police (@KP_Police1) July 28, 2018


In a video that went viral on social media, Quami Watan Party workers were deep in wrapping a dog in a PTI flag and tying it to a tree trunk.

Donkey 'beaten to pulp' by political activists dies

A young person with pistol in the video is then seen shouting that they are shooting the dog owing to PTI's rigging in the recently held elections. Three gunshots are then heard in the video.

According to the police, the brutal act was committed by QWP workers and supporters from the former members of the provincial assembly member Adnan Wazir on PK-89; a day after results was announced.

After much uproar from the public and local leaders, local journalists informed The Express Tribune that the arrested culprits were from the Jani Khel area of former FR region Bannu. The culprits have been identified as Hazrat Umar, son of Gul Sher, and Naseerullah, son of Qadar Jan. They are both residents of Zindi Ali Khel, PS Jani Khel, Bannu.

Police have also uploaded a confessional video by one of the culprits, Hazrat Umar. In the video, police questions the culprit about his motivations behind the act. He confessed to shooting the animal at 9am and informed the police that he was urged by another accomplice to commit the act.


#Bannu :: Confessional video of the culprit involved in torturing, killing the animal and making video of the shameful crime. #KPPolice once again Thanks the Social Media users for raising the issue. pic.twitter.com/SDz4nLMQjR

— KP Police (@KP_Police1) July 28, 2018


Animal cruelty: Testing on animals is being replaced with a more reliable method

Previously, a similar video had surfaced on social media in which another dog was covered with PTI chairman Imran Khan's photographs. The dog was seen yelping in agony when individuals in the video tried to remove the posters that were stuck to its fur with an adhesive agent.

A few days ago, a donkey was also subjected to inhuman brutality in Karachi. Speaking to The Express Tribune, senior sociologist Shahid Ullah expressed fear that since animal brutality has now been recorded in K-P, sharing videos on social media may invite copycat behaviour.

"Due to extreme intolerance in our society, lack of sensitivity toward other creatures in our surrounding has made us more senseless and more brutal," Shahid added.

Viewers of the viral video have demanded that the animal protection department of K-P should take initiative to protect animals from abuse. They also urged the department to award criminal sentences for such acts and press for legislation for animal protection.


COMMENTS
Comments are moderated and generally will be posted if they are on-topic and not abusive.
For more information, please see our Comments FAQ