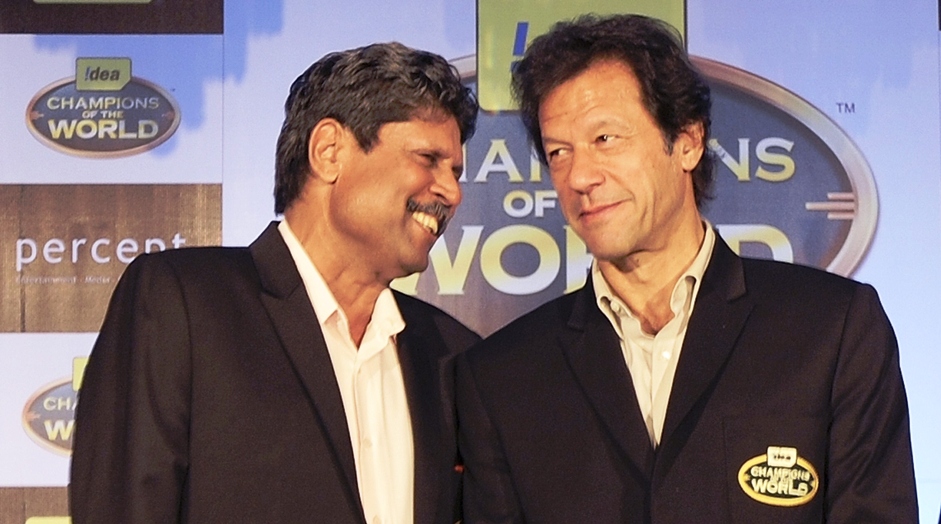 ---
In the wake of Imran Khan-led Pakistan Tehreek-e-Insaf (PTI) massive victory in the general elections, cricketing stars lent their support and congratulated the party chief.

Former Indian captain Kapil Dev said: "Firstly, I'd like to congratulate him [Imran] on this huge achievement."

"Winning a World Cup is one thing but leading a nation is a completely different ball game all together," he said.

Dev went on to say, "To be honest his [Imran's] achievements in cricket pale in comparison to leading a country."

In pictures: Pakistan celebrates the elections

"You shouldn't discount his 25 years of struggle to reach this point either," the former Indian skipper said.

"He [Imran] is a born leader and I truly hope he can help his country," Dev said.


Congrat PTI and @ImranKhanPTI on a truly historic victory! The 22 yr old struggle has finally paid off & deservedly. Pakistanis have a lot of expectations from u I really hope u lead from the front! I request all opposing parties& media to accept the result and help rebuild 🇵🇰

— Shahid Afridi (@SAfridiOfficial) July 26, 2018
Who could be a bigger and better example of a leader than Imran Khan, who as a super star had the world at his feet and yet elbow greased for 22 years to work for his objective and vision..he's special and we are proud to have him as our Prime Minister..

— Ramiz Raja (@iramizraja) July 26, 2018
This is the result of 22 years of conviction , relentless efforts , determination and not giving up!
Congratulations @ImranKhanPTI You have done it!!!#PrimeMinisterImranKhan #NayaPakistan #ElectionPakistan2018Results

— Shoaib Akhtar (@shoaib100mph) July 26, 2018
Ma Shaa Allah @ImranKhanPTI U done it once again 🤲🏼, Long Marathon Struggle against corruption ✅, A man of Strong Believe , #GREATLEADER #IRONMAN 😍👏🏼👏🏼👏🏼👏🏼, Banay Ga Naya Pakistan 🇵🇰, IN SHAA ALLAH ,

— Mohammad Hafeez (@MHafeez22) July 26, 2018


The PTI pulled a major shocker on the former ruling party, Pakistan Muslim League-Nawaz (PML-N), by securing a significant lead in the National Assembly race.

The rumour mill, casting uncertainty over the fate of the general polls, was silenced with the conduct of country's largest electoral exercise for the NA and four provincial assemblies that gave the PTI an edge over its arch-rivals the PML-N and Pakistan Peoples Party (PPP)