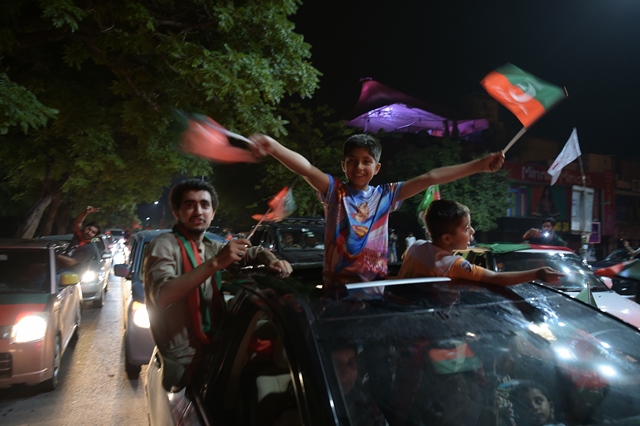 ---
PESHAWAR: As the Pakistan Tehreek-e-Insaaf (PTI) stands victorious for the second consecutive time in the Khyber-Pakhtunkhwa securing an unprecedented simple majority in the assembly of 124 members, the opposition becomes weaker.

As per the unofficial results of the provincial assembly seats in K-P, PTI was leading with more than 60 seats of the total 97 general seats on which elections were held on Wednesday.

The Muttahida Majlis-e-Amal (MMA) is trailing behind PTI with 11 seats, ANP on eight seats, Pakistan Muslim League-Nawaz (PML-N) and Pakistan Peoples Party (PPP) on three seats each.

Elections 2018: Unofficial National Assembly results

As per the incomplete and unofficial results from polling stations, PTI's victory broke the myths associated with the 30-year election results of the province which show that a party is hardly ever voted to power for the second consecutive term.

PTI bagged only 35 general seats in the 2013 elections and made an alliance with Jamaat-e-Islami (JI) and Qaumi Watan Party (QWP), however, results of the 2018 general polls show a clear majority for the PTI.

A clear majority will help the party to be at liberty to implement its manifesto to word which would not be possible in case of an alliance.

Sources in PTI told The Express Tribune that in case the party secures simple majority, former minister for elementary and secondary education Atif Khan will be the candidate for the chief minister in the province.

Former chief minister Pervez Khattak will keep his National Assembly seat of NA-25 of Nowshera. Sources also informed that former minister for health Shahram Khan Tarakai and PTI senior leader from Swat Dr Haider Ali are also among the aspirants for the position of chief minister.

Key national parties insist of massive rigging

As the results started pouring in PTI's favour, hundreds of supporters and activists took to the streets celebrating the party's victory.

Talking to The Express Tribune a PTI supporter in Gulbahar Peshawar Salman Ahmad Khan said that today is the night of new Pakistan. "We are very happy to have made the right decisions and voted for change in the country," he said.

A female supporter of PTI said that five years Pakistani nation were looted by corrupt leaders but this time Imran Khan will bring real change in the country.


COMMENTS
Comments are moderated and generally will be posted if they are on-topic and not abusive.
For more information, please see our Comments FAQ