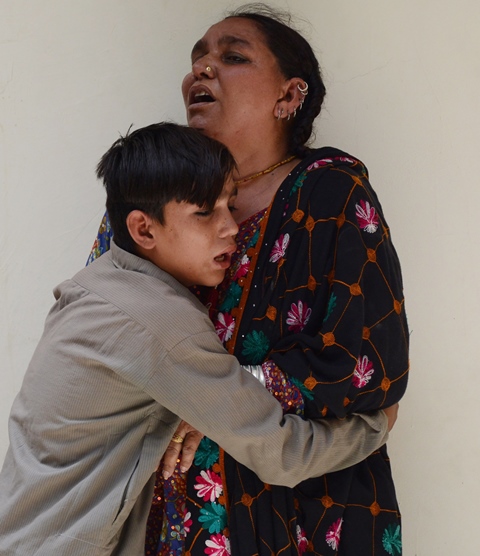 ---
QUETTA/ PESHAWAR/ KARACHI: Polling took place across Pakistan on Wednesday despite sporadic incidents of violence, but remained largely peaceful as the country moves towards its second democratic transition of power.

Dubbed as Pakistan's 'bloodiest' elections owing to the pre-poll violence in the country, the polling process concluded relatively peacefully.

Apart from a terrorist attack that claimed at least 31 lives, balloting concluded peacefully in most cities.

At least 31 people, including five police officials, were martyred and 60 injured in a suicide attack in the Bhosa Mandi area of Quetta on Wednesday.




The attack targetted the convoy of Deputy Inspector General (DIG) Abdul Razzaq Cheema, who remained unhurt in the attack, near a polling station on the Eastern Bypass.

DIG Counter Terrorism Department (CTD) Riaz Notkani confirmed Investigation Officer Riaz Notkani was martyred in the attack and Station House Officer (SHO) Muhammad Hameed is in critical condition.

At PTI activist was killed and two others were injured in an exchange of fire between rivals at a polling station in Khyber-Pakhtunkhwa's Swabi.




According to DPO, the PTI worker was killed as party activists clashed with Awami National Party (ANP) workers outside a polling station for NA- 19 (Swabi II) and PK-47 (Swabi V) in Nawan Kali area.

The victim was identified as Shahzaib Khan.

Another person was killed in firing outside a Mirpurkhas polling station in NA-219 Dighri area. The victim was identified as Sikandar Noohani.

In a separate incident, one person was killed while five others were injured in a cracker blast outside a political camp in Larkana.

One PML-N activist killed in a scuffle in Khanewal.

A scuffle erupted between PTI and PPP workers near a polling station in Zaryab Colony, Peshawar. The crowd was dispersed by K-P Police.

At least three people were injured as PPP and GDA workers clashed in Matiari. Both sides reportedly used axes.

Five people were injured as political workers clashed in Sahiwal NA-148/PP-198.

PPP leaders Azizullah Mangi and Siddique Mahesar were injured in a firing incident at Dadu PS-84 polling station.

K-P government issued a health report about the poll activities on Wednesday, The Express Tribune acquired a copy of the report.




COMMENTS
Comments are moderated and generally will be posted if they are on-topic and not abusive.
For more information, please see our Comments FAQ