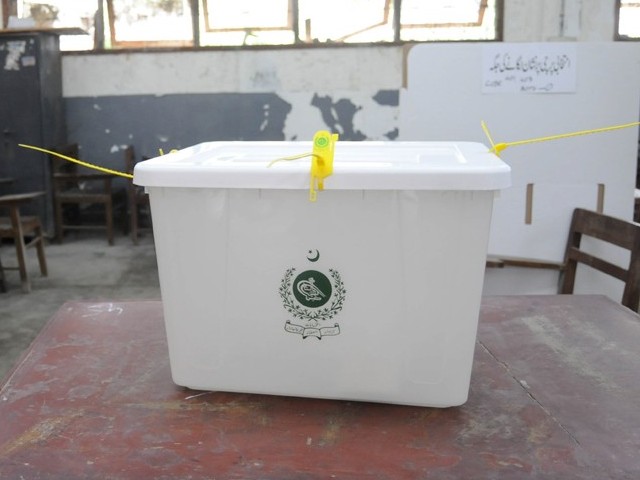 ---
ISLAMABAD: After the largest yet one of the most polarised electioneering in nation's history, millions of voters will use their right of franchise today (Wednesday) to elect their representatives for the National Assembly and four provincial assemblies for the next five years.

At the eleventh general election to be held since adoption of 'one man one vote' formula in 1970, there are a total of 105.95 million registered voters. Among them 59.22 million voters are male and 46.73 million female, showing an unnatural gap of 12.49 million between the two genders.

The Election Commission of Pakistan (ECP) has set up 85,058 polling stations having 244,687 polling booths to cast vote.  It has hired services of 819,119 polling staff from different government departments to act as presiding officers, assistant presiding officers and polling officers to conduct polls.

Sharif homecoming rally 'attempt to challenge writ of law': Dr Hasan Askari

The polling process would start at 8am and will continue till 6pm. Those who are inside the premises of a polling station by the expiry of this time will be allowed to cast their votes.

The new election laws enacted in October last year stipulate at least five per cent quota for women contestants on general seats.

This is in addition to the reserved seats for women in the national and provincial legislatures.  The results of the election would show how much this new provision is helpful in women empowerment.

Of the 120 political parties enlisted with the ECP, 95 have fielded their candidates in the contest – an overwhelming majority of them do not bag even few thousand votes.

Other than the mainstream political parties there are some new entrants in the race. Most of them are religious outfits that have fielded candidates in hundreds of constituencies.

A large number of candidates, including many electables, are contesting as independents. If elected in big numbers, they would have an important role in formation of governments in Centre and provinces.

Among the contesting parties, seven have not fulfilled the condition of awarding at least five per cent tickets to women candidates. This means they would automatically be out of the race, even if any of their candidates wins.

The election laws also necessitate that at least 10 per cent of the total votes polled in a constituency and every polling station should be of women, otherwise the result would be annulled.

Out of 272 directly elected seats for the National Assembly, elections in two seats have been postponed, while of the 577 general seats of four provincial assemblies, polling would be held for 570.

Law and order

Like the previous two general elections of 2008 and 2013, the election campaign for 2018 election saw several incidents of terrorism resulting in loss of scores of lives – some candidates amongst them.

The ECP on Tuesday once again stated that security for polls is a daunting task. "Law and order is major challenge for us. We are still getting threat alerts," said ECP Secretary Babar Yaqoob during his briefing to media over election preparations.

Highly sensitive

Authorities have declared 17,007 polling stations 'highly sensitive', a term used for an area where there has been violence in the past or the law enforcement agencies report chances of violence like fighting among the supporters of the candidates.

Of these highly sensitive polling stations 5,878 are located in Sindh, 5,487 in Punjab and Islamabad Capital Territory, 3,874 in Khyber Pakhtunkwa (K-P) and 1,768 in Balochistan. However, the authorities cannot map out security alerts of serious nature like terrorist attacks. According to the ECP secretary these alerts reflect possibility of attacks on polling stations, election staff and leading politicians.

The country has seen a significant decline in terror incidents over the past couple of years. However, since the electioneering gained momentum later last month a new wave of terror attacks also started in the K-P and Balochistan, the provinces worst affected by violence in last two decades.

Interestingly, the ECP warned of such attacks much before the election process formally began. The ECP secretary in May this year told a parliamentary panel about the threat during a briefing.

Army deployment

Besides providing security for transportation and storage of election material, it is for the first time that officials of the armed forces, mainly the Pakistan Army, have been deployed at all polling stations.

Around 370,000 army personnel will be performing election duty inside and outside polling stations across the country. In addition 449,465 personnel of police and other law enforcement agencies will be performing election duty.

Result management system

The ECP will be using Android-based mobile application called Results Transmission System (RTS) in this general election. The presiding officers will be required to enter polling results into the application along with the picture of FORM XIV which will transmit data to the ECP server in real-time.

Election postponed in eight constituencies of national, provincial assemblies

A step towards enhancing transparency in election results, it is yet to be seen if this app prepared by the National Database Registration Authority (NADRA) would be successful.

The mobile application has the provision to automatically capture current time and geographical coordinates through mobile phone's Global Positioning System (GPS) and send election results data to central database of the ECP.

The ECP officials say in most areas 3G, 4G or GPRS connectivity is available except a few remote locations where mobile data networks are not available.

But even in far-flung locations the POs can find mobile data signals by travelling a few kilometres. The app has the ability to save time and location of the picture taken of result form.

According to Section 13 of the Election Act, 2017, the commission shall establish a transparent results management system for expeditious counting, tabulation, compilation, transmission, dissemination and publication of results in the official gazette and on the commission's website.

The presiding officer shall immediately take snapshot of the result of the count and, as soon as connectivity is available and it is practicable, electronically send it to the commission and the returning officer before sending the original documents under Section 90.

Results by 2am

Another provision of law says the returning officers (ROs) would have to compile the provisional results before 2:00 am the day immediately following the polling day, and communicate these results electronically to the ECP.

In case an RO could not do so, he would have to provide reason to the ECP why the results are incomplete by that time. He would have to communicate the list of polling stations from which results are awaited by the stipulated time.
COMMENTS (1)
Comments are moderated and generally will be posted if they are on-topic and not abusive.
For more information, please see our Comments FAQ