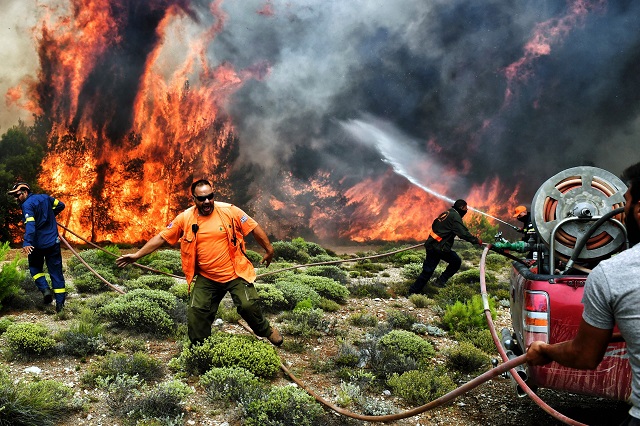 ---
ATHENS: Raging wildfires killed 74 people including small children in Greece, devouring homes and forests as terrified residents fled to the sea to escape the flames, authorities said Tuesday.

Orange flames engulfed pine forests, turning them to ash and leaving lines of charred cars in the smoke-filled streets of seaside towns near Athens after the fires broke on Monday.




The charred bodies of 26 people, including small children, were discovered in the courtyard of a villa at the seaside resort of Mati, 40 kilometres (25 miles) northeast of the capital, said rescuer Vassilis Andriopoulos.




They were huddled together in small groups, "perhaps families, friends or strangers, entwined in a last attempt to protect themselves as they tried to reach the sea", he said.

"The problem is what is still hidden under the ashes," said Vice President of Emergency Services Miltiadis Mylonas.

The government said that 308 engineers will arrive on site by Wednesday to assess the damage.




Video footage showed people fleeing by car as the tourist-friendly Attica region declared a state of emergency.

"I saw the fire move down the hill at around 6:00 pm and five or ten minutes later it was in my garden," said 60-year old Athanasia Oktapodi.

Her home is surround by dry pine trees.

"They caught fire. I ran out like a crazy person, got to the beach and put my head in the water. Then the patrol boats came."

Fire service spokesperson Stavroula Maliri raised the overall death toll on Tuesday to 74 from an earlier count of 60.

She said the toll was not yet final since firefighters were still searching for victims.

We continue to receive "dozens of calls" from people looking for relatives, she said.
COMMENTS
Comments are moderated and generally will be posted if they are on-topic and not abusive.
For more information, please see our Comments FAQ