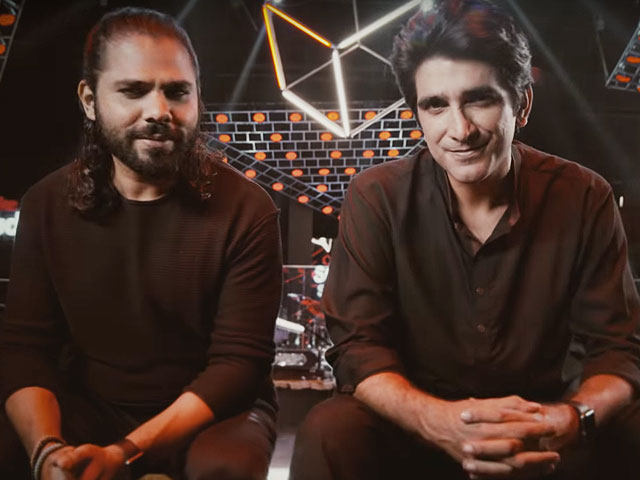 ---
KARACHI: Coke Studio season 11 marked a strong return with its opening track; a rendition of Faiz Ahmed Faiz's poem, Hum Dekhenge. The song - well, more of a ballad - revealed over 70 artists as part of its 11th installment.

While Coke Studio season 10 failed to impress, we're hoping this year's change of command with producers Ali Hamza and Zohaib Kazi in charge, will be appealing to the audiences.


In the first track, we witness artists celebrating the message of unity, hope and peace. The producers have gone the extra mile this season to ensure that all of Pakistan is represented in its true essence.

Here are seven reasons we are hoping this year's Coke Studio will be exceptionally different from its last spell.

1. Krewella makes 'Coke Studio' debut




Season 11 of the show aims to introduce new genres and fusion music where the artists featured explore their heritage by showcasing their unique styles. This also marks the debut of the Pakistani-American band, Krewella. The EDM (Electronic dance music) duo was previously all set to perform in Islamabad but cancelled last minute due to security concerns. We hope to see an unexpected outing from them in the show.

2. Ahad Raza Mir can sing!




Is there anything this man can't do? After being a prominent contender for almost every accolade this year, Mir's charm has never failed to amuse us. As soon as he graced the screen, clad in an orange kurta, the audiences' eyes nearly popped out.

While his appearance was definitely a pleasant surprise, this isn't the first time an actor has made his/her way to the acclaimed music platform. Previously, Mehwish Hayat and Ayesha Omar have also lent their vocals on the show.

3. In a first, transgender singers make their way to the stage




Staying true to its word, Coke Studio promised to bring out diversity, equality and the message of peace globally. And when we saw the transgender duo, Lucky and Naghma, the goosebumps were quite persistent.

https://twitter.com/Mximnat/status/1021275166834331649


#CokeStudio Pakistan Season 11 will be featuring a transgender duo!!! 🇵🇰 Meet Naghma and Lucky representing their whole community. I'm sure you'll experience the depth of their lives in their voices! #CokeStudio11 #Pakistan #TransgenderCommunity

— Rafay Latif (@Rafeylatif1) July 22, 2018
4. Old gems, new tracks


While there were quite a few firsts this year on Coke Studio, we also saw the return of some yesteryear artists. The likes of Abida Parveen, Ali Azmat, Jawad Ahmed, Abrarul Haq, Jimmy Khan, Humaira Arshad,  Asrar, Ataullah Khan Esakhelvi, Momina Mustehsan, Asim Raza, Shuja Haider, Ali Sethi, Bilal Khan, Sahir Ali Bagga, Aima Baig and Gul Panra are making a strong comeback.

However, Coke Studio regulars such as Atif Aslam, Ali Zafar and Zeb Bangash were missing from the line up. Not that we're complaining though, because it was about time to give new artists an opportunity such as this.

5. New talent


SCREENGRAB

One thing the show has always been applauded for is showcasing new talent. While we saw quite a few old faces in the promo, there was also a great amount of new talent. This season intended to bring back a musical fusion of exciting elements and diverse influences, ranging from traditional Eastern, modern Western and regionally inspired music.

We spotted Sounds of Kolachi finally making a mark on Coke Studio with Khumariyaan, rapper Young Des, Lyari Underground, The Sketches, Vishnu, Shamu Bai and Ariana, Amrina as well.

6. Diversity


SCREENGRAB

The producers aimed to feature a wide array of languages and a multicultural list of artists, folklore and poetry from across Pakistan.

7. What Ali Hamza and Zohaib Kazi had to offer




"This year's journey of Coke Studio began with 'Coke Studio Explorer' to discover music and stories from across Pakistan," said the producers.

"With a three years' tradition of doing artist reveals with a track which inspire the 'Pakistaniat' in all of us – there couldn't be a better choice for a track than Hum Dekhenge - a song by sung the people of Pakistan, for the people of Pakistan!" they added in a joint statement.

"In its 11th year, we aim to showcase the diverse cultures and languages across all provinces without the boundaries that bound us to celebrate who we are, where we are and what we are – on Coke Studio."

Have something to add to the story? Share it in the comments below. 
COMMENTS (1)
Comments are moderated and generally will be posted if they are on-topic and not abusive.
For more information, please see our Comments FAQ