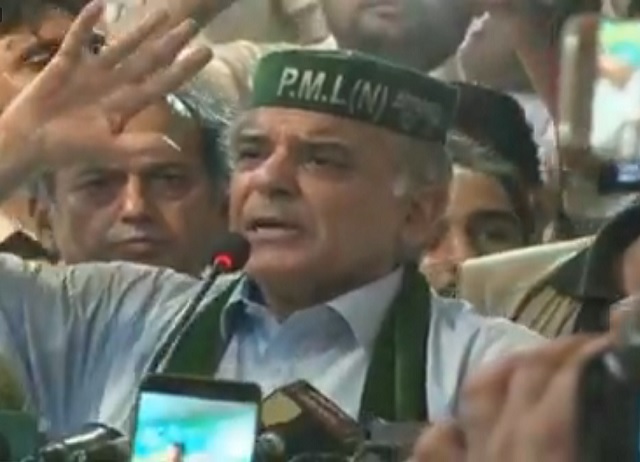 ---
PESHAWAR: [fbvideo link=" https://www.facebook.com/etribune/videos/2431324400217905/"][/fbvideo]

Pakistan Muslim League-Nawaz (PML-N) President Shehbaz Sharif on Friday mocked the caretaker Punjab government, saying it is acting as a pawn to the Imran Khan-led Pakistan Tehreek-e-Insaf (PTI) – arch-rivals of the former ruling party.

Addressing the party's supporters in Mingora, Shahbaz spoke at length on the issued his party was confronted with, from the loyalists jumping ship and electables joining other political parties to Punjab's caretaker government acting as PTI's government. He went on to add that the caretaker govt was creating hurdles in the former ruling party's electioneering campaign.

Shahbaz further said that PML-N workers took to the streets to welcome party supremo Nawaz Sharif but the caretaker government arrested hundreds of them, not letting them get a glimpse of their leader. The government, he added, included sections of the Anti-Terrorism Act in the cases registered against the supporters.

Imran Khan's rallies are as empty as his head, claims Shehbaz Sharif

He stated that the Election Commission of Pakistan (ECP) remained silent as well as the National Accountability Bureau (NAB) 'pushed the PML-N hard.'

The former Punjab CM claimed that his party was all set to win general polls and that the only way to steer out the country from the crisis was to hold free and fair elections. He, however, warned of consequences in case the general polls were tampered.

Shehbaz claimed the PTI had failed to complete even a single project, He highlighted that the Bus Rapid Transit (BRT) was being probed by NAB, saying the total cost had increased from Rs17 billion to Rs67.9 billion.

Concluding his address, the PML-N promised to build a model hospital and an educational institution in Malakand division, make Swat a model tourist spot and develop the district on the lines of development in Lahore.