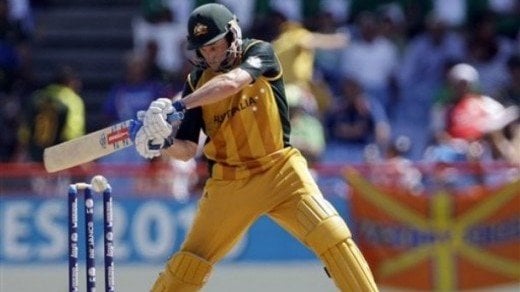 ---
For a nation that asks of our cricket team to be mature and sensible, we have proven to be rather childish fans.

It seems that playing well and the spirit of the game have all become secondary and all that matters is winning. Some games are bigger than their result. We should be proud of having participated in one of the best games of T20 cricket ever played. A supernatural Pakistani side came out to play that day, and Australia had to call upon demons of their own to emerge victorious. It was a match that did not deserve a loser. There is no blame to be thrown to anyone and no reason to be disappointed. Keep your chin up; there is no shame in a defeat of champions by champions.

To be honest, Australia did deserve to be in the final ahead of Pakistan because we have long been living in luxury. The luxury that the Pakistan team at its worse is worse than any team in the world, but at its best is better than everyone. But why should it be? There is so much wrong with Pakistani cricket and so much right with Australian. The mystery of our board management and lack of financial incentives aside, we even play with the wrong cricket ball in domestic cricket. Then of course the controversies, revamps, fines and bans leading up to the world cup. To come out of all that, and expect to beat the machinery that is Australian cricket is just ridiculous.

People with a half-baked understanding of cricket lashing out at Ajmal bowling the last over was understandable, but even Adbul Qadir lashed out at the team. He felt that the last over should not have been given to a spinner and that Ajmal was bowling too much outside the off-side. Yes, well everyone's a brilliant critic and expert in hindsight. Ajmal had bowled the last over against South Africa when they needed 17 runs and made it look impossible. He was our leading wicket taker and has always been considered one of the most difficult bowlers to get away. When Cameron White had been hitting everyone out of the park, Ajmal came and absolutely baffled him. As for pace bowling, Aamir got hit for 16 runs in the second last over, Mitchell Johnson got hit for 24 in an over earlier, and Sami was clobbered for 28 in the previous match against Australia. In T20 cricket, no one is sacred; anyone can be hit.

For once we need to stop criticising and give our national heroes a pat on the back for giving it their all. They are not perfect, they make mistakes and are inconsistent, but they are also capable of brilliance. In the words of Randy Milholland, "Our heroes are people and people are flawed. Don't let that taint the thing you love."