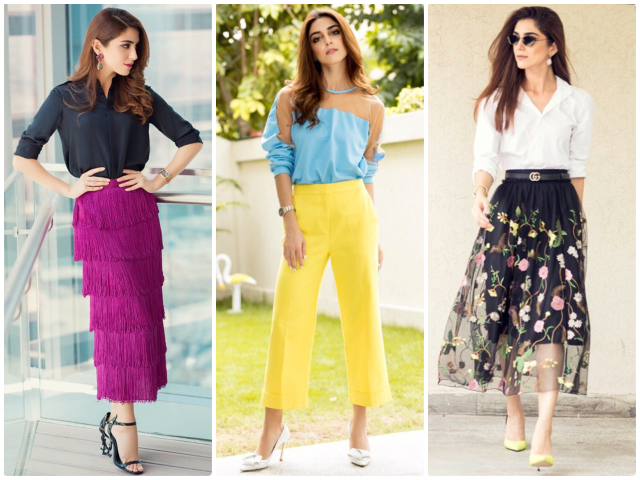 ---
KARACHI: It won't be long now before Ali Zafar and Maya Ali make their big screen debuts with Teefa In Trouble, slated to release on July 20. Needless to say, the cast and crew is elbows deep with promoting the upcoming action-comedy but it's Maya who's already been stealing the show with her impeccable outfits this week.

The actor has been revealing one gorgeous outfit after another. Here's a closer look at some of Maya's best looks from the promotions.






Clearly Maya's stylist Ania Fawad was thinking out of the box here as not many would pair a white button down shirt with this oh-so-elegant skirt. But that's the beauty of staple clothing items such as this top.

The Mann Mayal star looked so effortlessly chic clad in this H&M skirt and Uniqlo top. The net skirt is to die for, with its pastel-coloured floral embroidery and slightly shorter lining, which brings in a touch of sensuality.




Maya accessorised this with minimal jewellery, black angular sunnies and a Gucci belt which, to be honest, everyone and their mother has and so, was a let down for me.

My favourite part of this whole outfit though, was definitely her choice of footwear. The lime green heels with the black sling back detailing just elevates this ensemble and takes it to another level, even more so than the skirt did.




Now this was a rather daring outfit. As her take on colour blocking, the Diyar-e-Dil star rocked a baby blue illusion top with straight bright yellow pants.

It shouldn't have worked but somehow it did. Maya adorned it with white Jimmy Choo's and a simple watch, with wavy hair and bronzed makeup.




The peek through detail in the top, although very welcome by me, could have been a little too much for some as this was an already pretty out-there outfit.

The fit of the trousers was immaculate and there's not much I would personally change here, except maybe the colour of the top. Wouldn't navy blue have complemented the yellow much better?




Last but not least is this stunner of an outfit - my personal favourite. There's something so effortless about this look, with the contrasting colours entwined with the textures, simple accessories and bold makeup.

I'm pretty sure Maya made many heads turn garbed in this Ohaila Khan ensemble consisting a magenta ankle-length fringe skirt and black chiffon blouse.




The barely there YSL sandals speak for themselves with that statement heel. And keeping the jewellery matching but to a minimum was certainly a good move. Maya's makeup here was flawless with brown smokey eyes, rosy cheeks and a bold lip, tying in with the tones of the outfit.

Overall, Maya has definitely upped her style game this year. I'm looking forward to seeing her rocking more fun outfits in the future.

Have something to add to the story? Share it in the comments below.