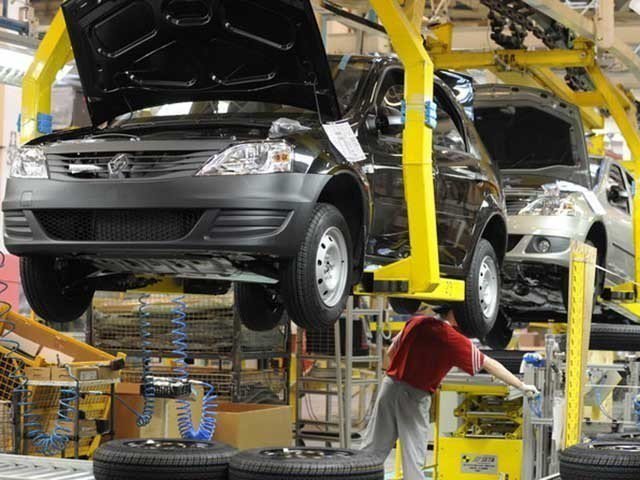 ---
KARACHI: The demand in the auto industry is strong and the rising cost of production due to rupee depreciation will be passed on to consumers. However, the cement industry will not be lucky enough to replicate the measures adopted by the auto industry to deal with the impact of currency weakness due to unsteady demand.

"Order books of the auto industry are strong. So, I don't think the industry players will be unable to pass on the change in rupee-dollar parity to consumers," said Insight Securities Head of Research Zeeshan Afzal.

The analyst said the rupee depreciation had a bigger impact on the price of imported vehicles as compared to vehicles assembled locally.

The changing landscape and face of Pakistan's auto sector

"In the first phase of rupee devaluation, buyers tend to move from imported vehicles to locally assembled vehicles since car imports have a larger impact in terms of prices due to increased value of the dollar.

"But there also comes a time, when it becomes difficult for buyers to buy a car because of excessive increase in car prices due to massive devaluation. However, looking at the order books of auto assemblers at the moment, that time has not come yet," he added.

Afzal said the delivery period was still long, around six months, despite the decline in sales due to other factors, most probably measures taken by the government to curb tax evasion. Now non-filers cannot buy a car.

Additionally, the increase in policy rate may have a bigger impact on the auto industry compared to the rupee depreciation. Car leasing will fall due to the hike in interest rate.

Commenting on the development, Indus Motor Company CEO Ali Asghar Jamali hinted at further price hike, saying if the latest massive rupee depreciation remained in place, then it would have impact on everything.

New policy: Makers of auto parts look to enhance share in growing market

Previously, all major auto manufacturers increased prices of cars following each of the three rounds of rupee depreciation. This is the fourth round of rupee weakness in seven months.

Speaking on the latest round of depreciation, Hyundai Nishat CFO Norez Abdullah said, "we cannot determine the impact at this point as we have not yet started operations."

He, however, said it depended on the original equipment manufacturer (OEM) if they wanted to retain the volumes or the margins since it was a price-sensitive consumer market and consumers were likely to shift from one model/variant to another.

Abdullah was of the view that there would be no major impact on leasing since only one-fourth of the total market was availing themselves of car leasing facilities. However, "the overall cost of our new project will increase," he added.

"The rupee devaluation will trouble car purchasers as prices of variants will increase further. There is a need to reassess the market based on recent happenings. The only benefit local car manufacturers see out of this is the possible decrease in imported vehicles' number since their cost will go up." There has been a need for a realistic evaluation of exchange rates, he added.

Impact on cement industry

"Looking at the previous record, the cement industry won't be able to pass on the impact of increased cost of production due to rupee devaluation since demand has not increased according to a rise in supply or capacity," Afzal remarked.

Eight-month data: Sales of automobiles jump 23% to 170,354 units

A well-placed source in a leading cement company said the rupee weakness would increase the cost of production to a big extent.

"It will increase the cost of coal. The government may not even wait for the month to end to increase diesel prices as it cannot sustain since only half a month has passed yet. We are expecting increase in diesel prices in the next three or four days. Subsequently, transportation prices will also increase with the rise in fuel price," the official added.

"The hike in interest rate is massive and it will hit our expansion plans," DG Khan Cement CFO Inayatullah Niazi told The Express Tribune.

He revealed that they were expecting a hike of 50 basis points. The cement industry in general was in an expansion mode and the rate hike coupled with rupee depreciation would have negative consequences for the sector, Niazi remarked.

"Our input cost will increase, so will the cost of our upcoming projects. We have to pass this massive impact on to consumers."

In terms of impact on the overall economy, Pakistan Business Council (PBC) CEO Ehsan Malik believes the move towards a realistic exchange rate following rupee devaluation was needed amid a deteriorating trade deficit.

Explaining the economic parameters that needed to be mended, Malik said the rupee depreciation was a move in the right direction as it would have double benefit - helping to improve exports and simultaneously discourage imports.

"There's a need to underline market realities. This is a realistic move. There has been a need for gradual adjustment of the exchange rate," Malik told The Express Tribune.

He added that exports had improved 12-13% following rupee's fall and the true picture of exports would emerge with the passage of time as shipments take place in future.

With additional input from Shahram Haq 

Published in The Express Tribune, July 17th, 2018.

Like Business on Facebook, follow @TribuneBiz on Twitter to stay informed and join in the conversation.
COMMENTS
Comments are moderated and generally will be posted if they are on-topic and not abusive.
For more information, please see our Comments FAQ