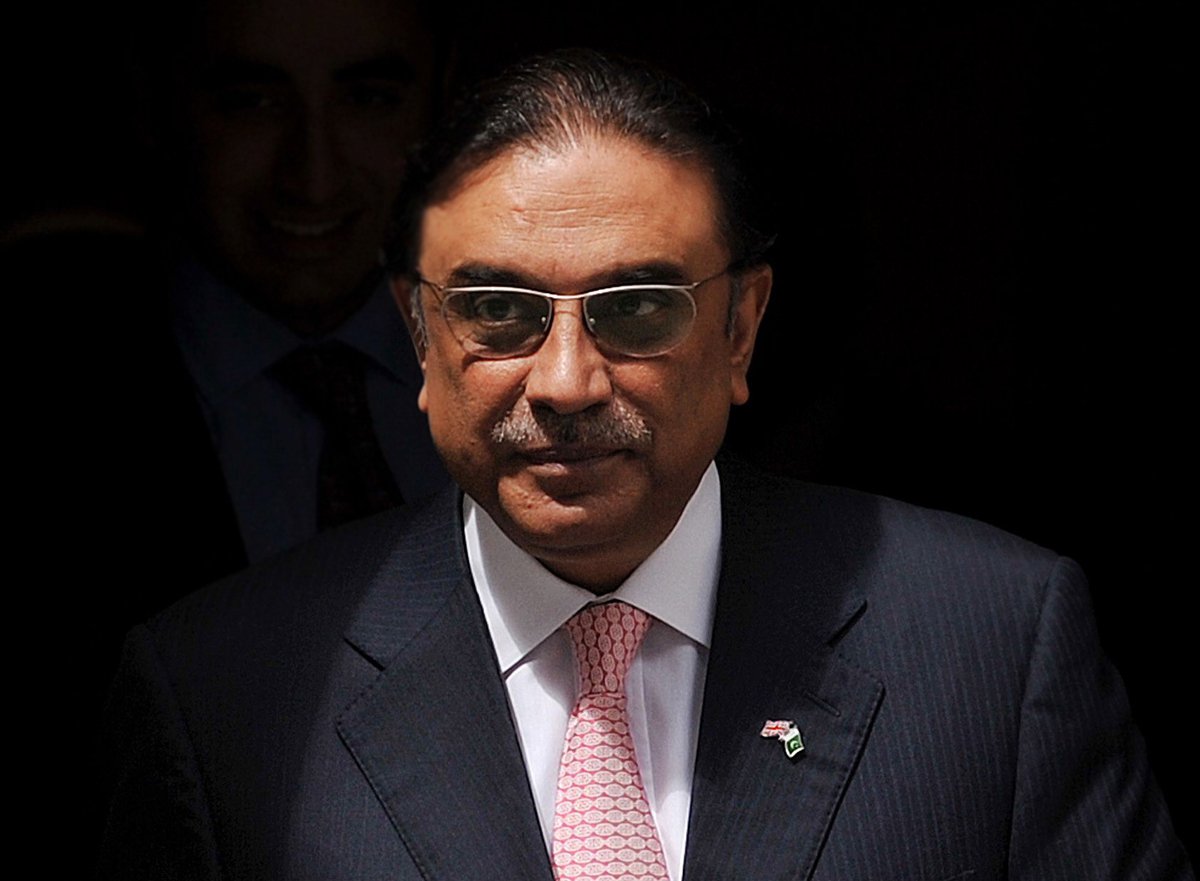 ---
You want your morning laugh, here it comes: According to media reports the PPP 'election cell', believes that "candidates, [read Asif Zardari] who have a long history of democratic struggle, will not succumb to such tactics." What is laughable is that Asif Zardari has a long, a very long, (alleged) history of corruption! And yet the man gets away with it each time. The latest case against him and sister Baji Faryal Talpur by the Federal Investigation Agency (FIA) accusing the duo of money laundering has been scuttled by the Supreme Court.

Sharif family meets Nawaz, Maryam for the first time in Adiala Jail

Should the PPP win and Zardari walk into the Presidency for the second time, the man will be untouchable. He will have presidential immunity as happened last time. His looting of state resources will begin on day one. Just imagine what that means. It means Pakistan can never get rid of this man because three attorneys, Aitzaz Ahsan, Farooq H Naik and Lateef Khosa, will always be around to get him out of jail free. Actually the last time Zardari got out of jail free was in 2008, thanks to then president Musharraf. In a bid to hang on to power, he got his attorney general Justice (retd) Malik Qayyum (remember this shady character?) to tell the Swiss to unfreeze Zardari's $60 million that the Swiss government had frozen in 1997 on charges of corruption.

Justice Qayyum told the Swiss that neither Zardari nor Benazir Bhutto had done anything illegal and that the charges were politically motivated. Resultantly, the Swiss dropped a money-laundering case against Zardari. "For money laundering to be proven, you have to show it was the product of a crime, but we don't have any evidence for a crime committed in Pakistan," said the Swiss prosecutor general. In 2007, Zardari faked mental illness when asked to appear in person before a Swiss judge. According to the London-based Financial Times, Zardari's two New York psychiatrists diagnosed him as suffering from severe depression, dementia and post-traumatic stress disorder during the 11 years he spent in prison under corruption charges. He also suffered from thoughts of suicide. But the next year, 2008, Zardari arrived from Dubai looking a picture of robust health with shining white teeth after Benazir's assassination to lead the PPP to power and crown himself as the president.

SC lets Zardari, Faryal off the hook

Two perfectly legitimate questions deserved an answer in September 2008 from president Zardari: What was his current mental condition if indeed he was mentally handicapped only a year ago and was he still being treated by psychiatrists? Second, if $60 million did indeed belong to him, how did he earn this money while living in Pakistan? Neither the media nor anyone else confronted Zardari with these two questions. Instead, Zardari and Benazir were rewarded for their corruption by being gifted the NRO (National Reconciliation Ordinance) from greedy Musharraf. He idiotically expected the couple would let him remain the president when they won the 2008 elections. Even, the Americans, responsible for negotiating the NRO, wondered about Zardari's fitness to be the president. Congressman Pete Hoekstra, the then ranking Republican on the House Intelligence Committee, told Newsweek: "Typically, the US wouldn't want that kind of person" involved in a nuclear chain of command. He wondered if Zardari was suicidal why his diagnosis was kept a secret. Presently Hoekstra is US ambassador to the Netherlands.

Because of the pernicious NRO (October 2007), shamelessly legitimising and pardoning corruption and heinous crimes of politicians like Zardari, Pakistan should get ready to see Zardari back in power. Where is the judiciary? Unless, our apex court practises zero tolerance for corruption, Pakistanis will helplessly watch people in power pillage their state resources. If Nawaz Sharif and his daughter can be thrown in the clinker, why should Zardari and sister Faryal be allowed to stand in the elections? They will win and wreak havoc!

Published in The Express Tribune, July 15th, 2018.

Like Opinion & Editorial on Facebook, follow @ETOpEd on Twitter to receive all updates on all our daily pieces.
COMMENTS (9)
Comments are moderated and generally will be posted if they are on-topic and not abusive.
For more information, please see our Comments FAQ