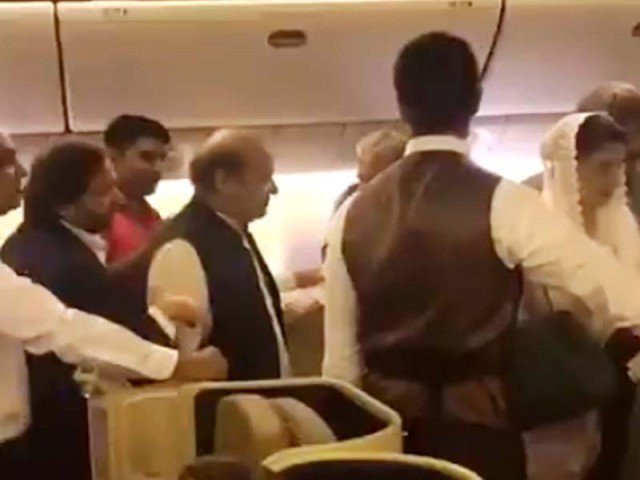 ---
Nawaz Sharif's mother Shamim Akhtar, former Punjab chief minister Shehbaz Sharif and 10 other family members met the former prime minister, his daughter Maryam and son-in-law Capt (retd) Safdar at Adiala Jail on Saturday.

The Sharif family had landed at the Noor Khan Airbase in the garrison city of Rawalpindi in a special aircraft.

Legal team meets Nawaz in jail

The meeting, which took place in the jail superintendent's room, lasted for an hour and twenty minutes.

The other members of the family included Hamza Shehbaz, Salman Shehbaz, Sharif's granddaughter Mehrunissa, as well as, her husband Raheel Muneer.

Separately, several PML-N activists and supporters gathered outside the jail and chanted slogans in Nawaz's favour .

Earlier in the day, Nawaz's legal team was allowed to meet with the former prime minister briefly.

Sources told The Express Tribune, that the legal team was only allowed to meet the former premier for five minutes.

Shehbaz slams police for 'attacking PML-N workers' without provocation

They further said that the Saad Hashmi-led legal team went to Nawaz to attain the power of attorney so that an appeal could be filed in the Islamabad High Court.

No bed, no AC has been provided to Nawaz in Adiala, they confirmed. A senior police official was present throughout the meeting.

Sources also said that Nawaz wasn't even given a newspaper to read.

His bed is a lonely mattress on the floor, and the washroom at Nawaz's disposal was in despicable conditions.
COMMENTS
Comments are moderated and generally will be posted if they are on-topic and not abusive.
For more information, please see our Comments FAQ