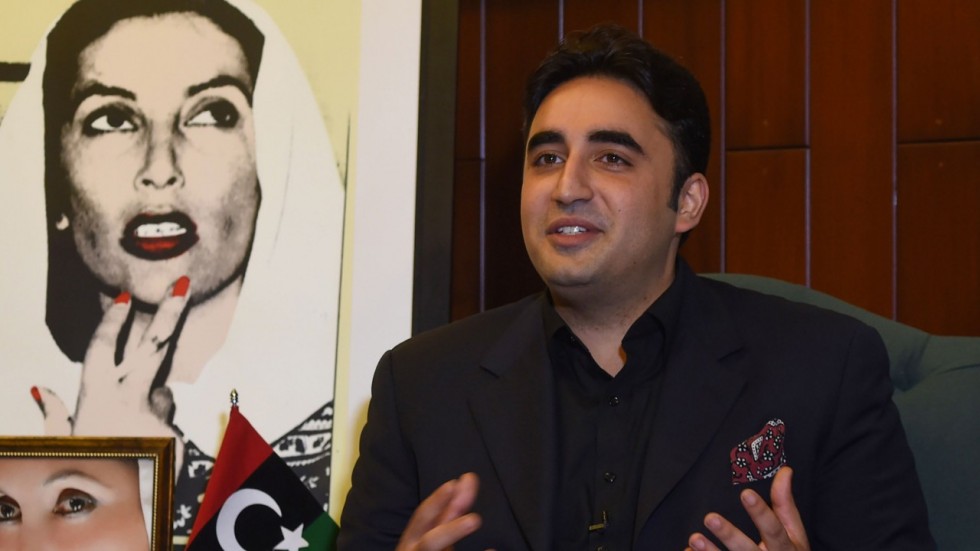 ---
PESHAWAR: Pakistan Peoples Party (PPP) Chairman Bilawal Bhutto Zardari has warned that election results will be controversial, saying not all political parties are being given an equal playing field for campaigning.

"Restrictions are being imposed on political parties with an aim to clear way for the 'favoured one'," said Bilawal while talking to media-persons at Arbab House on Saturday.

Bilawal also announced he would hold small-scale public gatherings for over 120 people, including election candidate Siraj Raisani, martyred in the terrorist attack in Balochistan.

.


Devastated by continued attacks on innocent Pakistanis. loss of shaheed Siraj Raisani & 120 innocent people in Mastung cannot be in vain must insure this mindset is defeated. Have suspended my political activities in solidarity.

— BilawalBhuttoZardari (@BBhuttoZardari) July 14, 2018


The PPP chief, who is also contesting polls for the first time in his political career, said that his party had raised concerns before the Election Commission of Pakistan (ECP), which would respond as to why there wasn't equal security for all political groups.

"Without an equal playing field, we are heading towards a notorious election," said Bilawal.

Moreover, he assured continuing political campaign regardless of threats in honour of the lives lost in the Bannu and Mastung attacks. "PPP will not hold any big power show in Malakand" but will visit the area as per schedule, Bilawal said.

"Over 120 people have died. Each one has a family. What they'll think when they see me chanting slogans in rallies. I cannot do that," said Bilawal, who is also contesting for the National Assembly's NA-9 Malakand seat.

The Bhutto scion further complained he is consistently being asked to remain at the party's provincial president Humayun Khan's residence. "How would I campaign? What kind of equal playing field is this?" he asked. "PPP believes press censorship and lack of right of free political association is part of pre-poll rigging," he said.

Meanwhile, the PPP chief alleged that there were complaints from Sindh and Khyber-Pakhtunkhwa (K-P) about party workers being forced to join GDA and PTI, but "our workers are standing with us and are loyal".

He also accused the K-P administration of being partial towards one party and unfair to the rest.

"Ever since I have started my political campaign from Karachi, I have faced a number of difficulties, media coverage of political rallies has reduced, our statements and press conferences have no coverage, while in South Punjab even barricades were placed to halt us from holding a rally at Uch Sharif," said Bilawal as he recounted how the PPP had been cornered in the current election season.

"Terrorist attacks must be condemned. We will have to be on the same page to deal with terrorism," said Bilawal, reiterating his demand to properly implement the National Action Plan.

"The press is facing censorship, political activists are being detained. This is not only a violation of human rights but also pre-poll rigging," said Bilawal as he referred to the Pakistan Muslim League-Nawaz workers being jailed on Friday as they protested in support of ousted prime minister Nawaz Sharif.

However, talking about not being on the same page with Shehbaz Sharif, he said, "Our philosophy is different from Shehbaz. We believe parliament is the right place for decision making. I will use the forum of parliament to bring all the political parties on a single page."

"There should be an equal playing field available for all the political parties for their election campaigns. Democratic institutions should be allowed to get stronger otherwise it'll be very difficult to find a solution to peoples' problems with a controversial parliament."