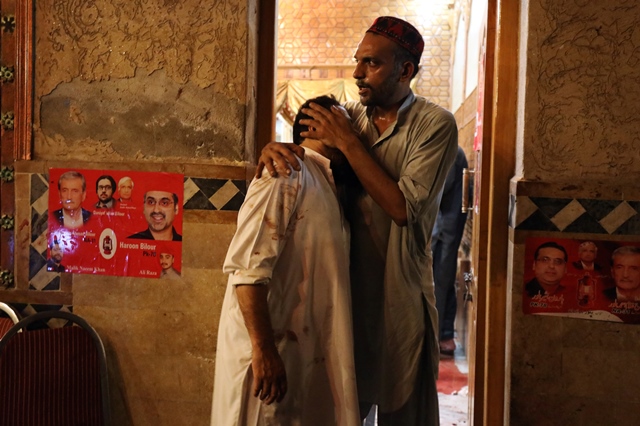 ---
PESHAWER: At least 20 people, including Awami National Party's (ANP) Haroon Bilour, were martyred and 63 others injured in a suicide bombing targetting the party's rally in a congested neighbourhood of Peshawar late Tuesday night.

The attacker detonated his explosive belt close to the ANP leader's vehicle as he approached a rally organized to promote his election in the Yakatoot area of the provincial capital. Rescue teams and security officials shifted the deceased and injured to the Lady Reading Hospital (LRH) soon after the attack.




'Brave son of a brave father': Twitter reacts to Peshawar tragedy

"We were able to tally the death toll in the morning as the bodies brought to the hospital by Law Enforcement Agency (LEAs) personnel were moved by relatives without registration last night," LRH spokesperson Zulfikar Babakhel told The Express Tribune.

Shortly after the attack, ANP supporters gathered outside the hospital and chanted slogans against the government for its failure to provide security to their leader.




An eyewitness, Inam, said Haroon was scheduled to attend a corner meeting at Azeemabad. "We were waiting at the venue when we heard an explosion as soon as Bilour's vehicle approached the gate," he said.  He recalled falling unconscious after witnessing blood and body parts strewn through dust and smoke.




Eight injured in cylinder blast at Peshawar's Noor Medical Centre

Claiming responsibility for the attack, Tehreek-e-Taliban Pakistan (TTP) spokesperson termed the assassination "revenge for ANP's previous government". The statement warns of further attacks.

Bashir Bilour, the father of Haroon, was also martyred in a suicide bombing targeting his rally in the fabled Qissa Khawani bazaar of Peshawar in December 2012. The outlawed TTP had claimed responsibility for that attack.




Funeral prayer

Hundreds attended the funeral prayers for Haroon Bilour at the Wazeer Bagh amid security. Heavy contingent of security officials was deployed across the city ahead of Haroon's last rites. A three-layer security plan had been derived for the funeral procession including bomb disposal units and sniffer dogs while drones will be monitoring the situation.

On Tuesday night the last ritesfor 10 others martyred in the attack were offered at the Esa Khel mosque. The deceased were laid to rest at Rahman Baba graveyard.

Polls postponed in the constituency

Following the assassination of the PK-78 candidate, the provincial Election Commission of Pakistan said the elections for the constituency will be postponed. "An official notification will be issued once the returning officer writes a letter detailing the incident," K-P election commissioner Pir Maqbool told The Express Tribune.

ECP spokesperson explained that the elections are cancelled in a constituency if a candidate dies or is killed before the polls. The Clause 73 (1) of the Elections Act 2017 states that "if a contesting candidate dies before the commencement of the polls or during polling hours, the returning officer shall, by public notice, terminate proceedings relating to that elections.