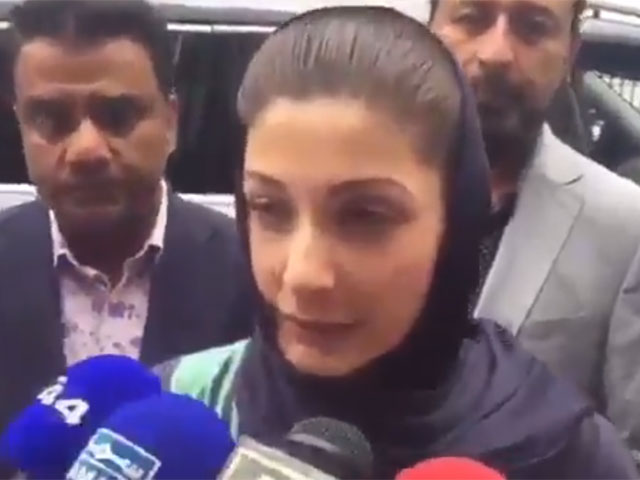 ---
Maryam Nawaz, daughter of deposed prime minister Nawaz Sharif, on Tuesday termed putting their names on the Exit Control List (ECL) a last ditch effort to bar them from returning to the country.


ای سی ایل میں نام ڈالنا ہمیں واپس آنے سے روکنے کے لیے آخری کوشش ہے،آپ جتنی مرضی وضاحتیں کریں لوگوں کو حقیقت کا پتہ ہے،ہمارے ارادے متزلزل نہیں بلکہ اور پختہ ہو گئے ہیں،انہوں نے ہر قسم کا حربہ استعمال کر کے دیکھ لیا ہے ہر دفعہ اللہ تعالی نے ان کی چال کو انہی پر الٹا دیا۔ pic.twitter.com/G5uGzFBqNl

— PML(N) (@pmln_org) July 10, 2018


The Pakistan Muslim League-Nawaz (PML-N) supremo and his daughter earlier announced to surrender to the National Accountability Bureau (NAB) on their return to the country on Friday following the Avenfield verdict.

"No matter how much you try to cover it, people know the reality," Maryam said while talking to reporters in London.

Nawaz's counsel demands exclusion of presiding judge from remaining references

"This is not the 1970s or 80s; the more you try to cover up [the facts] the more you will be exposed," the PML-N leader added.

Maryam further said that not only "we aren't deterred, these circumstances have further strengthened our resolve."

The former premier's daughter went on to add that 'they' have used all tactics, but were defeated by their own designs every time.

Last week, in a verdict which will echo across the political landscape of the country for decades, the accountability court hearing the Avenfield reference sentenced Nawaz to 10-years imprisonment and Maryam to seven years.
COMMENTS (2)
Comments are moderated and generally will be posted if they are on-topic and not abusive.
For more information, please see our Comments FAQ