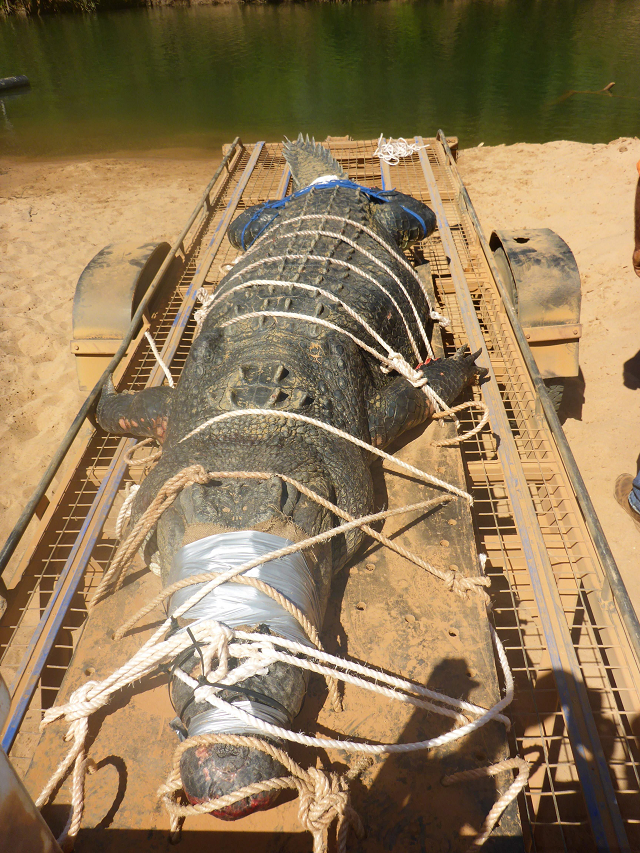 ---
SYDNEY: An elusive monster saltwater crocodile weighing 600 kilograms has finally been caught after an eight-year hunt in Australia, officials said on Tuesday.

The 4.7-metre beast was found in a trap downstream from the northern outback town of Katherine after first being spotted in 2010.

Authorities had tried in vain for years to bag the croc, which is estimated to be 60 years old.

Heathrow authorities seize 50 crocodiles

"We've called it a lot of things over the years because it's been so hard to catch," senior wildlife officer John Burke told broadcaster ABC.

"It is a bit of a thrill, but you've also got to admire the size of the animal and how old it is. You've got to have a bit of respect for it."

The animal was taken to a crocodile farm to keep it separate from the local human population, said Northern Territory wildlife operations chief Tracey Duldig.

Human limbs found inside belly of Indonesia crocodile: police

"He is the biggest crocodile ever removed from the Katherine River by the Wildlife Operations Unit," Duldig said in a statement.

Wildlife rangers capture around 250 "problem crocodiles" each year.
Saltwater crocodiles are a common feature of Australia's tropical north and kill an average of two people a year.

Panic as crocodile blocks hospital entrance in Zimbabwe

The crocodile population has exploded since they were declared a protected species in the 1970s, with the killing of an elderly woman last year reigniting calls to curb their numbers.
COMMENTS (1)
Comments are moderated and generally will be posted if they are on-topic and not abusive.
For more information, please see our Comments FAQ