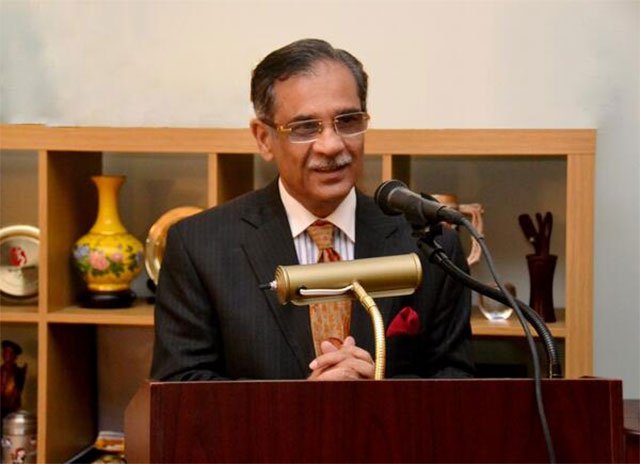 ---
ISLAMABAD: The Supreme Court expressed its ire on Monday when the government's tried to give an impression that it had opened accounts for building dams.

Chief Justice of Pakistan (CJP) Mian Saqib Nisar summoned the governor of the State Bank of Pakistan (SBP), secretaries of finance and information as well as a senior representative of the Federal Board of Revenue (FBR), asking them to personally appear on Tuesday (today).

Judges plan to amend Supreme Court Rules, 1980

Interestingly, only Rs1.3 million has been deposited in the account established by the chief justice, in which he himself donated Rs1 million.

Expressing severe reservations over the apex court's move to collect funds for building dams, Vice-Chairman of the Pakistan Bar Council (PBC) Kamran Murtaza said that this was not the judiciary's job and it should not be involved in such matters.

Questioning the chief justice's move, Murtaza wondered if similar measures had been taken to by the chief justice to provide quick and inexpensive justice to the people.

During the hearing of the case, the bench expressed its anger over the opening of an account by the federal government.

It noted that the SBP was trying to give an impression that the government had opened an account meant for the construction of dams.

"These funds are established by the Supreme Court. The public is giving us a message that they do not trust the government. People maintain that they will not deposit money into any account maintained by the government."

Justice Nisar also demanded an explanation over the finance secretary's absence, remarking that he insisted that the account for the dam construction had been set up by the ministry of finance.

He advised the attorney-general to consult the caretaker Prime Minister Nasirul Mulk and present his views before the court.

The CJP maintained that the SBP's procrastination was a source of anguish for everyone concerned.

Sugar mill owners summoned by Supreme Court

"It (seems odd that it) took three days for the bank to open an account," he added. "The SBP has been unnecessarily causing delays while the people are clueless with money in their hands. We must ask the upcoming chief justices to take care of the issue. Those who are making donations for the construction of dams must be praised."

Justice Ijazul Ahsan maintained that the State Bank was creating bottlenecks for the general public.

"An impression is being made that people don't want to deposit funds in the account set by the SC," Justice Ahsan said.

In response, the CJP said that a man had just committed himself to donating whatever it takes for the construction.

The CJP said that the court would not allow anyone to steal the money.

"We do not want to see any corruption," he warned, adding that the court would remain vigilant during the course of the audit.