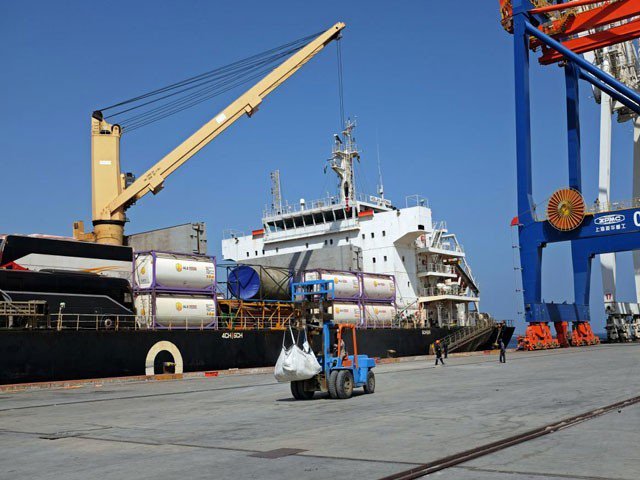 ---
ISLAMABAD: Since the signing of the China-Pakistan Economic Corridor (CPEC) agreement in 2015, an intensifying race for taking credit for the gigantic project has been going on.

All political parties including the Pakistan Muslim League-Nawaz (PML-N), Pakistan Peoples Party (PPP), Pakistan Tehreek-e-Insaf (PTI) and other actors of the state are part of this race. No one is ready to analyse the programme from China's perspective.

Although some analysts bring the Belt and Road Initiative (BRI) under discussion, talk about actual planning behind the concept is missing at large. Lack of clarity on CPEC, BRI and the Chinese design and model of development have greatly restricted debate on the programme.

CPEC starts bearing fruit for people

The PML-N government extensively used CPEC as a major idea, brainchild and achievement of its tenure. Since the programme's inception, it continued to highlight the importance of the project and the fruits it would bear.

Overselling and generating high hopes are now creating real challenges for the country and the economic corridor. It has also diverted government's attention from performing in other priority areas and sectors. The PML-N government's main slogan during the 2013 campaign was that it would eradicate electricity load-shedding and CPEC provided an excellent opportunity to fulfill the promise. However, it could not fully capitalise on the opportunity as it ignored most important areas.

Major problems in governance in the power sector are low revenue collection and poor supply efficiency, followed by high line losses. It is estimated that every year Pakistan loses almost Rs213 billion in line loses and theft.

Losses are not equally distributed among different regions of the country. Sukkur tops the list with 37% losses, followed by Peshawar.

It is an alarming situation as it costs the country on many fronts. First of all, it hurts the payment structure of private companies, which is one of the main reasons behind circular debt. Secondly, it undermines the rights of citizens who are paying their bills regularly. It also hampers capacity of the government to invest in new ventures. Private companies also get discouraged from pouring capital into the country due to non-payment issues.

Despite the importance of the issue, the government did not pay heed to improving the efficiency of the transmission network and remained busy outlining the achievements of CPEC.

China gives fresh assurance on CPEC financing

Now after the completion of several energy projects under CPEC, Pakistan is still facing load-shedding and people have started to question the CPEC-related energy programmes and investments.

Following such inquiries, the PML-N has started to blame the invisible hand, rather than accepting its inefficiency in governance of the energy sector.

Polishing skills

Another area of mismanagement is the lack of investment in areas associated with CPEC. The government could not devise a strategy to enhance investment in skill development programmes. Pakistan does not even have any initial estimates to gauge the gap between supply and demand, sector-specific demand and new areas of skill development.

At present, only sporadic work is being done like Punjab government's initiative in cooperation with Tianjin University in Lahore and some other small initiatives in Gwadar. These initiatives have been undertaken because China has emphasised on its importance and provided support.

All governments including national and provincial ignored this important element. PTI in Khyber-Pakhtunkhwa (K-P), PPP in Sindh and allied government in Balochistan could not devise any comprehensive skill development programme to reap benefits of Special Economic Zones (SEZs) and other initiatives in their respective provinces. It will hurt the country on a wide scale. Firstly, workers will be left out of jobs due to low skills or no skills. Secondly, industries will have to look for alternatives and may consider workers from other countries. And then, it will hurt efforts to curb poverty among the masses.

Arrival of foreign workers will create issues for local communities, including social disturbance as immigrants do not understand local culture and values.

Pakistan is already facing this problem. It is being debated among some circles that CPEC has attracted a huge influx of Chinese workers and they liken the situation to the one when East India Company was set up in the sub-continent.

The challenge for the upcoming government will be to mitigate this impression by deploying resources for skill development of common people.

Pakistan's policy and decision-makers should also present a realistic picture to common citizens. It should be communicated that real benefits of CPEC will be visible after 2022 or 2030.

A huge number of jobs will be created after the completion of SEZs, investment in agriculture and tourism. SEZs will also encourage entrepreneurship at the local level. But for reaping benefits, Pakistan must invest in capacity-building and skill development of local communities.

It is being concluded that a right set of policy and political actions are direly needed to maximise benefits of CPEC. However, the government should not ignore other sectors of the economy as achievements of CPEC will be lost due to inefficiency in those sectors.

For instance, we invested in energy and are about to achieve self-sufficiency in production, yet we are still facing the problem of load-shedding. It clearly depicts a lack of good governance. The incoming government will have to focus on two things. First is the dire need of governance reforms as poor governance will hamper progress in all sectors.

Second is the need to de-politicise CPEC. It must be treated as a state-to-state initiative rather than a government-to-government initiative. No political party should treat it as its achievement, but it can highlight its part in delivery. Last but the most important thing is the implementation of better governance model, which is the key area to ensure sharing of CPEC benefits.

Pakistan must devise a programme for capacity enhancement of bureaucracy in the context of changing governance models. The Ministry of Planning should take the lead in capacity building. In the absence of governance reforms, Pakistan will lose the opportunity. It will also have severe implications for China's image as a friend to Pakistan.

Pakistan and China are facing multiple smear campaigns at the global level. We do not have any option except to introduce and implement comprehensive reforms to reap full benefits of CPEC.

The writer is the Head of Centre for Future Policy and Head of Research Coordination Unit, Sustainable Development Policy Institute



Published in The Express Tribune, July 9th, 2018.

Like Business on Facebook, follow @TribuneBiz on Twitter to stay informed and join in the conversation.
COMMENTS
Comments are moderated and generally will be posted if they are on-topic and not abusive.
For more information, please see our Comments FAQ