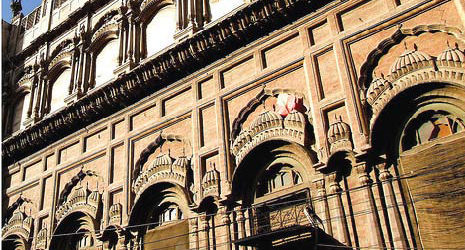 ---
PESHAWAR:
The Archaeology Department of Khyber-Pakhtunkwa has begun conservation of the 19th century 'Sethi House' known as the 'architectural jewel of the walled city' in Peshawar.
The historic house in Sethi Mohallah, inspired by Central Asian and Gandharan architectures, was constructed more than 150 years ago by the Sethi family.
The cost of conservation is estimated to be around Rs40 million and architect Yasmin Lari, who is also the chairman of the Heritage Foundation, is the honorary director of the project.
Acknowledging the cultural importance of houses in the Sethi neighbourhood, the Archaeology Department decided to buy one of the houses for preservation. "The objective behind purchase and preservation of one of the Sethi houses is to protect the architectural jewel of Peshawar from decaying and to show the coming generations the love for art that their ancestors had," said Director Archaeology Saleh Muhammad.
Muhammad added that conservation of old buildings and monuments is a very technical process and preservation of Sethi House would take around two years to complete. He added that the practical work for its preservation would start in June.
The director said that a committee has been constituted under the chairmanship of Tourism Minister Aaqil Shah to make some decisions about Sethi House after its preservation.  Muhammad added that the committee will decide whether the house will be opened for general public or only for tourists.
Archaeologist Prof Ahmad Hassan Dani had mentioned houses in the Sethi neighbourhood in his book `Peshawar - Historic City of the Frontier'.  "Through a galaxy of pre-Islamic, Mughal, Sikh and even British motifs, much of Peshawar's rich and varied cultural history can be traced," writes Prof. Dani.
The Sethis, a wealthy traditional business community of Peshawar, faced financial losses after the Russian revolution in 1917 and their descendants could not maintain the glory of the houses and rented out some portions to compensate for the financial loss.  The government purchased a house in 2006 belonging to a businessman Haji Karim Buksh, one of the founding members of the Sethi family, said Muhammad.
Published in the Express Tribune, May 31st, 2010.
COMMENTS (1)
Comments are moderated and generally will be posted if they are on-topic and not abusive.
For more information, please see our Comments FAQ