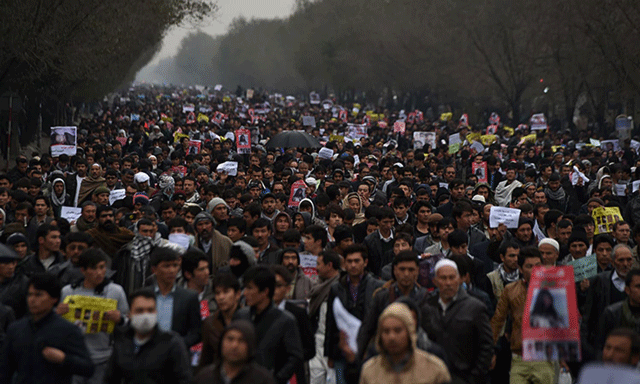 ---
MAZAR-I-SHARIF: At least one person was killed and nine were wounded in the Afghan province of Faryab on Wednesday during a protest that underlined the tension between powerful regional leaders and President Ashraf
Ghani ahead of elections due in October.

Hundreds of demonstrators gathered in Maiman, the capital of
the northern province of Faryab, to demand the release of a
prominent militia commander close to General Abdul Rashid
Dostum, the ethnic Uzbek vice president who is in exile in Turkey. The commander, area police chief Nizamuddin Qaisari, was arrested after a violent dispute during a meeting with leaders of government security forces on Monday, drawing angry protests from Dostum's supporters.

Afghans walk hundreds of kilometres for peace

The dispute has highlighted fragile security in Faryab, where Islamic State fighters have gained a foothold, battling militia commanders loosely affiliated with the government. Dostum, in exile in Turkey after accusations that he ordered a political opponent to be tortured and sexually assaulted, issued a statement calling for the release of Qaisari and warning that the province, on the border with Turkmenistan, could collapse in chaos.

The protest descended into violence when protesters tried to force their way into governor's compound and security forces fired in the air to stop them, said Karim Yourish, spokesperson for the provincial police.

But the head of a provincial council, Mohammad Tahir
Rahmani, said at least one person was killed and eight wounded
in the firing, which then prompting the crowd to break into the
compound.

"We were trying to control the protesters and have a peaceful protest, but unfortunately it turned violent after security forces opened fire," Rahmani said, adding that one member of the provincial council was among the injured.

The trouble underlines the important role that Dostum plays in politics despite the international outrage that prompted his departure from Afghanistan last year.

Since his exile, there have been regular reports that he will return to Afghanistan, where he commands loyalty among ethnic Uzbeks who make up a significant minority in the north of the country. With parliamentary elections due in October and presidential elections due early next year, there has been growing tension between powerful regional leaders, like Dostum, and Ghani's Western-backed government in Kabul.

Afghan hunger strikers protesting for peace taken to hospital

This week, Atta Mohammad Noor, the former governor of Balkh province, who stepped down in March after a months-long standoff
with the central government, announced a new opposition movement
called the Grand National Coalition of Afghanistan.

Noor, a leader of a party supported mostly by ethnic Tajiks, is associated with both Dostum and Mohammad Mohaqiq, a leader of
the Hazara minority. He has insisted that the coalition be involved in overseeing the elections. The political tension is a distraction for the central government as it battles the Taliban insurgency and a growing
threat from Islamic State.