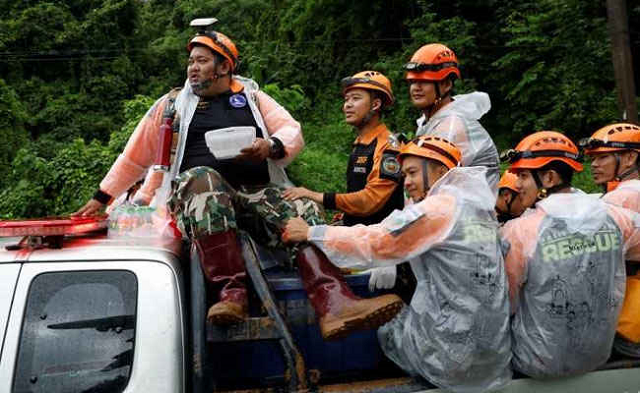 ---
CHANG RAI: Having failed to find any sign of 12 boys and their soccer coach during a week-long search of flooded cave complex in northern Thailand, rescuers held out hope on Saturday that the group could have found safety on a rocky mound in one of the chambers.

Divers from the Thai navy's elite SEAL unit were groping their way through the murky waters filling passages of the 10-kilometre (6-mile) underground maze of the Tham Luang cave, as the rescue effort turned increasingly desperate.

Five wild elephants trample Thai man to death

International rescue teams, including 30 US military personnel, have joined the search for the junior soccer team, which went missing last Saturday, but the rescuers have been hampered by heavy rain. Divers were still some way from the potential safety spot, called "Pattaya Beach" after one of Thailand's best known tourist destinations.

"The distance we've got still got to go is probably two to three kilometres," Narongsak Osottanakorn, governor of Chiang Rai province, told reporters. Meantime, a police search party has entered the cave from the surface, having drilled a 50-metre long shaft from the mountainside.

Survival boxes, filled with food, water and torches, had been dropped down the shaft on Friday, but by Saturday it was wide enough for rescuers to be lowered into the cave. Deputy Police Chief Wirachai Songmetta said that search party has, as yet, been unable to reach the underground chamber that could be the best hope of survival for the boys.

Thai police declare no-go zones for anti-junta march

Aside from bicycles and soccer boots left near the cave's entrance, and some hand-prints seen on the walls, the searchers have found no trace of the boys, aged between 11 and 16, or their 25-year-old assistant coach.

Still, rescuers believe the boys have a chance of surviving, and could have access to fresh water inside the cave, and medical teams were practicing drills to treat survivors, and airlift them from a make-shift helipad.

Relatives kept a vigil, with prayers led by a Buddhist monk, near the mouth of the cave. "I am still hopeful and hope the children will come out safely," Kampon Paree, 39, an uncle of three of the missing boys, told Reuters.
COMMENTS
Comments are moderated and generally will be posted if they are on-topic and not abusive.
For more information, please see our Comments FAQ