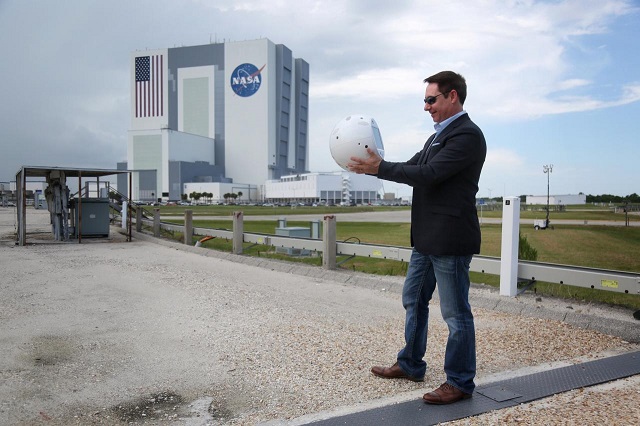 ---
A floating, ball-shaped, artificial intelligence robot, specially trained to follow around a German astronaut at the International Space Station, is scheduled to blast off Friday on its ground-breaking mission.

The basketball-sized device called CIMON -- shortened from Crew Interactive MObile CompanioN -- was described as a 'flying brain' by Manfred Jaumann, head of microgravity payloads at Airbus.

It launches from Cape Canaveral, Florida on Friday at 5:42 am (0942 GMT), along with some 5,900 pounds (2,700 kilograms) of gear packed aboard SpaceX's unmanned Dragon cargo capsule.

This Japanese robot transforms into a sports car

CIMON's activation will mark "a historical moment," becoming the first robot of its kind to interact with people in space, said Christian Karrasch, CIMON project manager at the German Aerospace Center (DLR), during a NASA press briefing Thursday.

A project in the works for the past two years, CIMON has been trained to recognize the voice and face of Alexander Gerst, 42, a geophysicist with the European Space Agency.

When Gerst calls to CIMON, the floating robot will acoustically sense where Gerst is calling from, orient itself that way, and zoom over.
Hovering at the astronauts' eye level, its front camera can detect if the person in front of it is indeed Gerst, or someone else.

CIMON will be powered by more than a dozen propellers to help it jet around and avoid bumping into things inside the Columbus module of the space lab.

'First luxury hotel in space' to offer 16 sunrises a day

"This is designed to work in English. It understands Alexander," said Bret Greenstein, global vice president of Watson Internet of Things Offerings at IBM.

"It was helpful to train it to recognize him so that it will come to him when he speaks."

All six crew members at the orbiting outpost can speak to CIMON, though it has been taught to work best with Gerst.

Experts say the experiment is more than just a smart phone-type device that follows astronauts around.