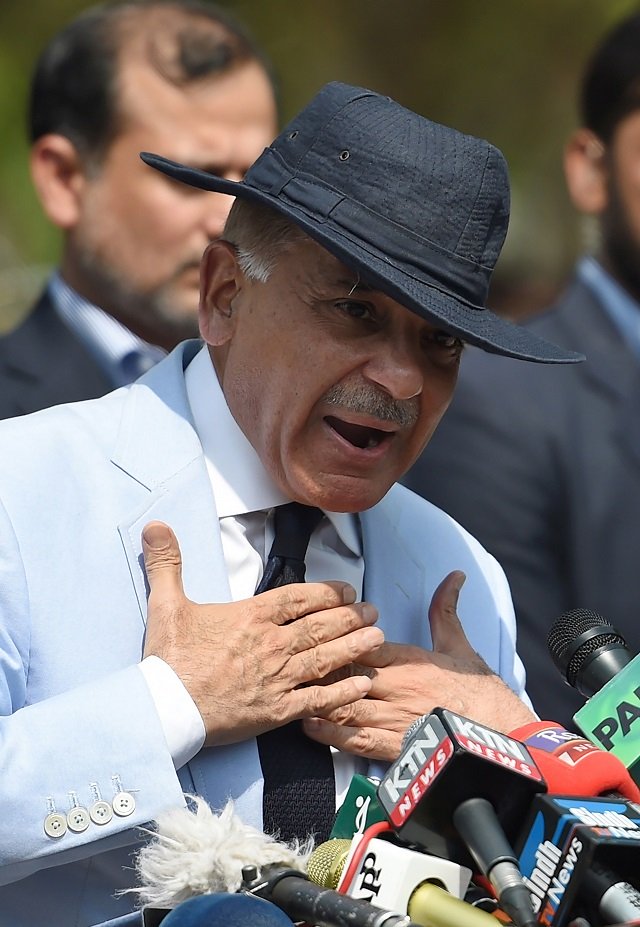 ---
The National Accountability Bureau (NAB) on Wednesday sought help from the police to assist in producing Shehbaz Sharif before NAB Lahore in the Saaf Paani case.

Shehbaz has been summoned on July 5 to appear before the accountability watchdog. NAB reached out to the capital city police officer Lahore and directed the relevant authorities to ensure that Shehbaz appears before the bureau.

PML-N candidate contesting polls against Chaudhry Nisar taken into custody

NAB will also direct the SHO to submit a report of the notice served to Shehbaz. The report will be submitted before July 4 with details of Shehbaz's appearance and delivery of notice. The notice will be sent to Shehbaz's official address in Model Town.

On Monday NAB arrested Engineer Qamarul Islam Raja – former chairman of Punjab government's Saaf Pani Company – for his alleged role in awarding contracts to 'favourites'.

He is also the Pakistan Muslim League-Nawaz (PML-N) pick in the general elections against the party's disgruntled leader Chaudhry Nisar Ali Khan from Rawalpindi's NA-59 constituency.

Interestingly, the arrest took place within 24-hours after Raja's nomination as the PML-N's candidate for NA-59 and the PP-10 constituencies of Rawalpindi.

NAB also took into custody another accused in the case, Waseem Ajmal Chaudhry, who served as the chief executive officer (CEO) of the company.

NAB summons Miftah

PML-N's former finance minister Miftah Ismail has been summoned by NAB Karachi on July 5 as well. Senator Rubina Khalid was summoned today [June 27] at NAB Rawalpindi. The bureau has authorised Complaint Verification against Senator  Rana Mehmoodul Hassan for having accumulated assets beyond known sources of income.

The country's anti-graft body has summoned Miftah Ismail on June 20 for awarding controversial contracts for the sale of natural gas liquids (NGL).

Shehbaz fails to appear before NAB

The National Accountability Bureau (NAB) on June 14 initiated an inquiry and sent a call notice to the former finance minister. He's been summoned to explain "allegation(s) of corruption and corrupt practices by officials of the Sui Southern Gas Company Limited (SSGCL) in awarding of natural national assets to private company Jamshoro Joint Venture Limited (JJLV)."

Ismail chaired the board of directors meeting in which these tenders were approved. According to NAB, five previous tenders were handed to JJVL which violated a Supreme Court's verdicts on the matter. Ismail also served as chairman of the SSGCL from November 2013 to November 2017 and has been summoned by NAB in this capacity.