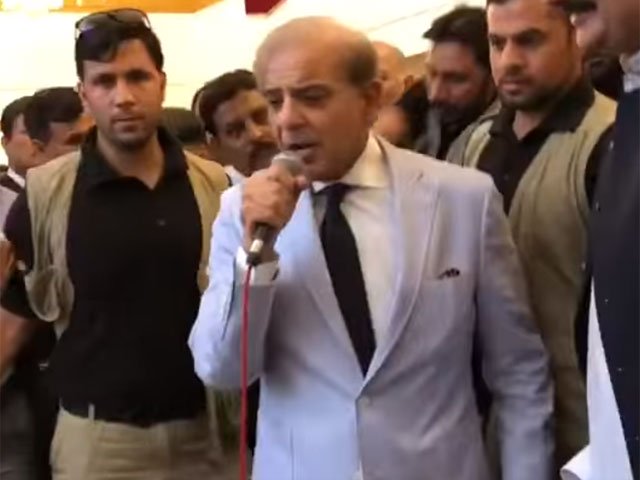 ---
[fbvideo link="https://www.facebook.com/PMLN.Lahore.Official/videos/1868586503185329/"][/fbvideo]

As the elections draw close, political leaders seem to be opting for newer and better ways to lure the voters. One such occurrence was pleasantly witnessed on Tuesday in Karachi where PML-N President Shehbaz Sharif dazzled a gathering with his singing skills.

Following his address at Marriot hotel in Karachi, Shehbaz, a man of 'multiple' talents, joined senior media persons and business journalists in listening to a band play the all-time famous akeley na jana, hamey chor ker tum...sung by Ahmed Rushdi in the film Armaan, which was released in 1966.

It was not long before the former Punjab CM decided to sing the notes himself and dazzle the audience.

PML-N kicks off election campaign with tall promises for Karachi

Later, the PML-N chief took to twitter to announce his return to Lahore.


Thank you Karachi. I am taking off for Lahore now after a very productive stay of two days. You have renewed my determination to do what I can to make you the City you were known for. This great city of the Quaid e Azam needs action, not hollow slogans. Pakistan Zindabad!

— Shehbaz Sharif (@CMShehbaz) June 26, 2018


Shehbaz kicked off his election campaign from Karachi on Monday by pledging to return to the city its lost glory.

"Karachi is the biggest port city – it is the financial hub, the nerve of exports; yet [previous] political and military governments have failed to give the city its due status."

Earlier that day, the PML-N chief, in his maiden address to a rally in the NA-249 constituency, announced to build a 500-bed hospital and a technical training centre in the area as well as bring the metro bus and orange train to Karachi.