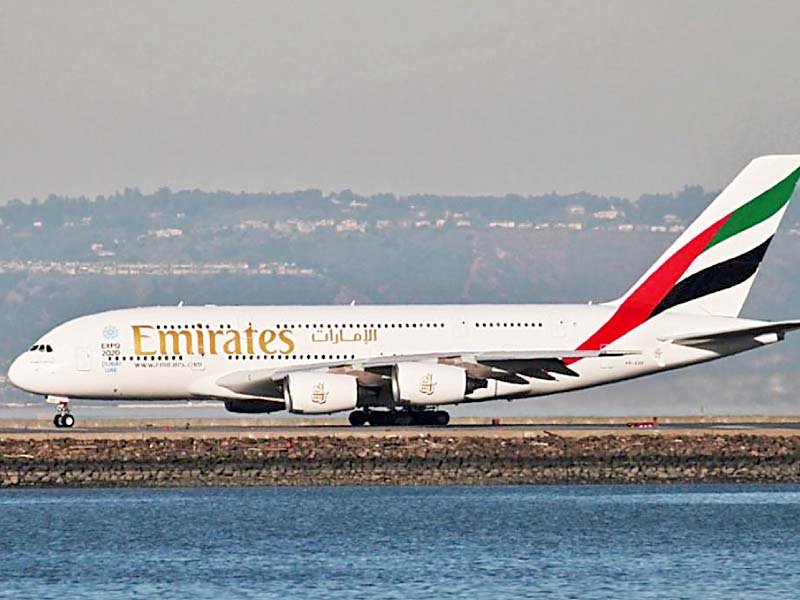 ---
KARACHI: As Emirates starts flying the world's largest passenger airplane Airbus A380 to the new Islamabad International Airport from July, it is believed that it will grab a larger slice of international air traffic flow to and from Pakistan.

However, the development will not affect the market share of Pakistani carriers, says a former official of the Civil Aviation Authority (CAA).

A380, a double-deck four-engine jet airliner, has the capacity to accommodate 550 passengers. Earlier, it was not possible to welcome the aircraft as no other airport in Pakistan was equipped to handle the airplane.

Emirates set to unveil new Boeing 777 private suites

At present, Dubai-based airline Emirates has a 16% share in international air traffic in Pakistan that stands at more than 14 million passengers per annum. The airline carries 2.2 million passengers and has a second place in the list.

State-owned Pakistan International Airlines (PIA) has a dominant share of 22% as most of the passengers fly to Saudi Arabia.

Shaheen Air has an 11% share in Pakistan's international traffic, Airblue 10%, Saudi Arabian Airlines 8%, Qatar Airways 7%, Flydubai 5%, Air Arabia 5%, Etihad Airways 4%, Gulf Air 3% and other airlines 9%, according to the CAA report on traffic flow in 2015-16.

"Emirates' share of traffic in Islamabad may increase about 35% if it decides to fly A380 for all the 11 flights per week. This will hurt its competitors - Qatar Airways, Etihad Airways and Turkish Airlines, but it is not likely to affect Pakistan's air carriers," commented Muhammad Afsar Malik, former additional director of the CAA.

Dubai airport retains top international spot in 2017

Emirates is currently running 11 flights a week to Islamabad, with Boeing 777. It plans to change the aircraft with A380, initially for four weekly flights and later for all 11.

Its regional competitors Etihad Airways and Qatar Airways have the right to run 14 flights each to the Islamabad International Airport under bilateral agreements between Pakistan, the UAE and Qatar. Turkish Airlines can operate seven weekly flights, which means daily one flight.

Apart from the Islamabad airport, Emirates can take 11 flights to Lahore and three to the Peshawar airport. Karachi airport is entirely open, but A380 cannot land there. Boeing 777, which has capacity for 314 to 396 passengers, about 39% less than the seating capacity in Airbus A380, can land at the Karachi airport.

There is competition among four foreign carriers, including Turkish Airlines, which mostly offer connecting flights for long routes like Australia, South Africa, Paris and South America with a stopover at the Dubai airport.

Emirates' demand is already high as it offers instant connection at the Dubai airport as well as good facilities to passengers awaiting the next flight. Furthermore, Emirates fly to more destinations than other airlines, but Turkish Airlines is now giving it a tough time.

Pakistani airlines, however, mostly fly on the Saudi Arabia route as it is the most profitable because the kingdom plays host to about 2.7 million expatriate Pakistanis. People also go to Makkah and Madina for pilgrimage throughout the year.

Emirates launches new daily flight 

An aviation expert pointed out that the former Pakistan Muslim League-Nawaz (PML-N) government had prematurely opened the new Islamabad International Airport for Airbus A380 for political point-scoring. Thereafter, people often shared pictures of dirty toilets and complained about prolonged wait, but matters are gradually settling with the passage of time.

Like the Islamabad airport that has built a runway to welcome the giant aircraft, the Karachi airport was one of the three international airports that had built the Black Hanger to welcome British R101 Airship, which could be called A380 of that time - 1933.

The Karachi airport, however, never received the British airship after one such aircraft met an accident in a European country.

Published in The Express Tribune, June 26th, 2018.

Like Business on Facebook, follow @TribuneBiz on Twitter to stay informed and join in the conversation.
COMMENTS (2)
Comments are moderated and generally will be posted if they are on-topic and not abusive.
For more information, please see our Comments FAQ