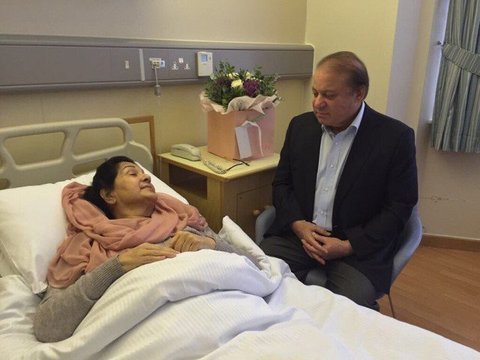 ---
Deposed prime minister Nawaz Sharif has ruled out leaving his wife's side while she is on a ventilator at a London hospital, Express News reported.

Speaking to media on Saturday, the three-time premier asked reporters if it would be appropriate to return to Pakistan when Begum Kulsoom is fighting for life.

On June 14, Nawaz and daughter Maryam left for Britain's capital after being granted a brief exemption from the ongoing corruption trial.

The Sharif family is facing trial at an accountability court in Islamabad on corruption references filed by the National Accountability Bureau (NAB) in the wake of Supreme Court's July 28, 2017 verdict in Panamagate case disqualifying Nawaz and directing the anti-graft watchdog to launch an inquiry.

Maryam requests for prayers after Kulsoom suffers cardiac arrest

While the father and daughter were en-route to London, the former first lady suffered a cardiac arrest and was shifted to the Intensive Care Unit (ICU) and placed on a ventilator.

Expressing his regret over not being able to see her while she was conscious, Nawaz said he planned on a four-day visit but was unsure about returning to Pakistan due to Kulsoom's health. He added that the matter will be further deliberated upon after consultations with the doctors.

The supremo of the ruling Pakistan Muslim League-Nawaz (PML-N), however, asserted his intent to return.

During the media talk, the disqualified PM refused to speak on political matters and requested for prayers for his wife. "I will do politics once I return to Pakistan."

Nawaz says Begum Kulsoom's condition 'serious'

On June 8, the accountability court had dismissed an application submitted by Nawaz and Maryam seeking exemption from personal appearance as they intended to visit Kulsoom in London.

However, the country's top court had granted them permission on June 10 while hearing a plea by accountability court seeking a third extension to conclude the trial against Sharif family. During the hearing, Chief Justice of Pakistan Mian Saqib Nisar had asked them to make a verbal request so the apex court could allow them.

On June 22, Hussain Nawaz told BBC that Begum Kulsoom's condition was comparatively better but she remained unconscious.

Begum Kulsoom had been undergoing treatment for cancer in a London hospital and had multiple surgeries while undergoing treatment.
COMMENTS (5)
Comments are moderated and generally will be posted if they are on-topic and not abusive.
For more information, please see our Comments FAQ