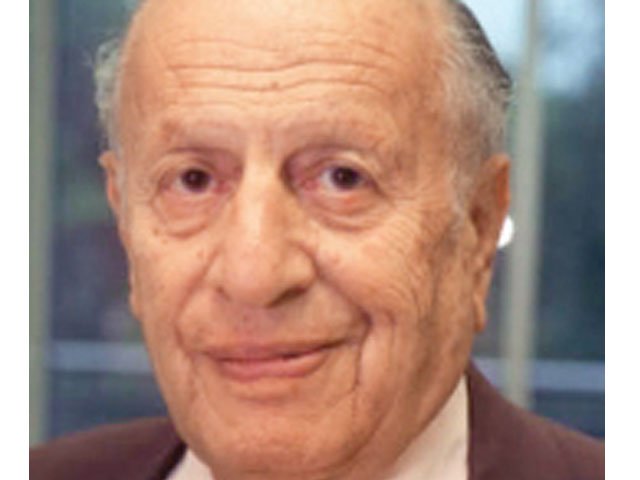 ---
KARACHI: Veteran Pakistani diplomat Jamsheed Marker passed away in Karachi early Thursday morning. He was 95.

"Pakistan has lost a great ambassador. It's a national loss … We are really grateful to people for condoling his death," said Marker's nephew, Ardeshir Marker.

He always used his ambassadorial skills for advancing the country's cause, he said.

Marker worked for his family business – in shipping and pharmaceuticals – before embarking upon his diplomatic career in 1965 when he was appointed as Pakistan's ambassador to Ghana. He later served as Pakistan's envoy in France, Japan and Switzerland.

Mushtaq Ahmed Yousufi – a legendary humourist and master craftsman

Marker served as Pakistan's ambassador continually for 30 years, earning him the title of 'ambassador to more countries than any other person' in the Guinness Book of Records.

He was appointed as ambassador in 10 different capitals besides holding nine more concurrent accreditations.

He became the country's ambassador to the United States in 1986 and is said to have helped negotiate the withdrawal of the former Soviet military from Afghanistan.

Marker also served as undersecretary general of the United Nations and also as a special adviser to former UN secretary-general Kofi Annan.

Jamshed Marker was also praised for his role in helping resolve the conflict in East Timor and its subsequent independence.

He served as the UN's special envoy to East Timor in 1999.

After retiring, he started teaching diplomacy and international relations in the US for more than a decade.

For the past six years, he lived a quiet life at his Bath Island residence in Karachi, according to Nejdet Mooraj, Marker's personal secretary for 26 years.

"He was an amazing person who treated everyone with respect. Throughout his life, he always lived for others,"

Mooraj told The Express Tribune.

Recipient of the Hilal-e-Imtiaz in 2004, Marker was also accorded with an honorary doctorate by his alma mater, FC College, in 2011.

Former federal information minister Javed Jabbar said that his relationship with Marker started developing in 1964 when he was still studying at the Karachi University.

"We had to stage a drama at the university and we were short of funds. I just went to him to collect some funds and he didn't refuse and gave us enormous support."

"As an individual, he was very caring and was a benchmark for diplomats," Jabbar said.

Born in a prominent Parsi family in 1922, he completed his early education from The Doon School in India before studying at the Forman Christian College in Lahore.

His passion for cricket peaked during his FC College days. Marker and Omar Kureishi went on to become well-known radio commentators.

His first cricket match commentary broadcast was from the Bagh-e-Jinnah, formerly known as Lawrence Garden, in Lahore when India visited Pakistan on their first cricket tour in 1954.

The duo made cricket commentary as memorable the game itself.

He leaves behind his widow Arnaz Minwalla and daughter Niloufer.

His first wife was Diana Dinshaw died of cancer in 1979. His other daughter Feroza died in a car crash in the US in 2001.

His last rituals were carried out in the Cyrus Colony, Mehmoodabad at the Tower of Silence.

Earlier, Sarosh prayers were held at his Bath Island residence. His funeral was attended by family and friends.