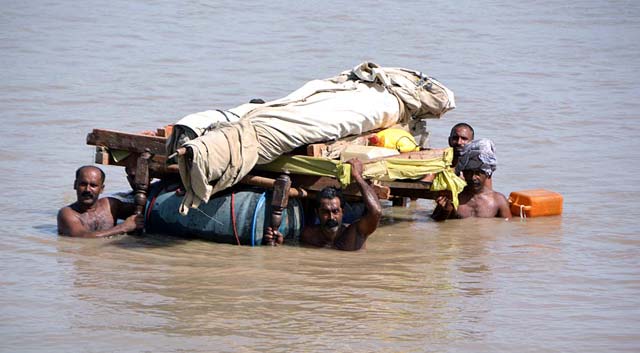 ---
ISLAMABAD: With the country increasingly prone to natural disasters owing to climate change, a call was issued on Wednesday to devise pre emptive strategies for disaster-risk reduction and ensure the safety of lives and properties.

This call was issued by Caretaker Federal Interior Minister Azam Khan while chairing a two-day international conference on disaster management which opened in the capital on Wednesday.

The conference will be followed by the sixth meeting of the regional technical group of Disaster Management Confidence Building Measures (DM-CBM) under the aegis of Heart of Asia, Istanbul Process. Pakistan National Disaster Management Authority (NDMA) is co-hosting the conference along with Kyrgyzstan.

Disaster risk management fund off to a bad start

Azam observed that the Asia-Pacific region in general, and Pakistan in particular, was prone to a multitude of natural disasters. Therefore, special measures were required to handle these recurring disasters owing to fluctuating weather patterns.

He said that Pakistan had a vast and diverse experience in coping with disasters which other countries of the region can learn from.

NDMA Chairman Lt Gen Omer Mahmood Hayat said that Pakistan was amongst those few countries that have developed their own long-term disaster management plan.

He further stated that the disaster risk reduction approach was imperative for building resilience and sustainable development, especially for developing countries like Pakistan.



Lt Gen Hayat further underlined that the Sendai Framework for DRR and Paris Climate Change Agreement provides a unique opportunity to move towards the vision for "risk-sensitive development as a cornerstone for sustainability".

Earlier, Member (DRR Wing), NDMA, Idrees Mahsud gave an overview of the conference.

Trump hopefully will change his mind about climate: Bloomberg

The central theme for the conference is "Capitalizing on Pakistan's Vast Experience in Handling Disasters, Creating Synergies among Global Frameworks for Resilience-Lessons Learnt and the Way Forward for the Region".

The meetings will be split into following three sub-themes including "Pakistan's Experience in Managing Mega Disaster', 'Lessons to be learnt' and "Analyzing related Global Frameworks for resilience with the aim to create synergies and strengthen risk governance".

Published in The Express Tribune, June 21st, 2018.
COMMENTS
Comments are moderated and generally will be posted if they are on-topic and not abusive.
For more information, please see our Comments FAQ