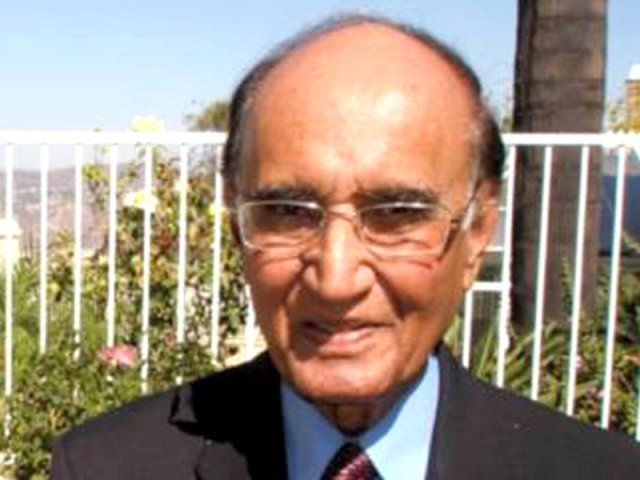 ---
An era of Urdu literature came to an end on Wednesday when the most celebrated humourist and satirist of our times passed away.

Mushtaq Ahmad Yousufi died after a protracted illness in Karachi. He was 94.

Some of his most popular works include Chiragh Talay, Khakam-ba-dahan, Zarguzasht, Aab-E-gum and Sham-e-Shair-e-Yaaraan.

In recognition of his contributions to Urdu literature, the government of Pakistan conferred upon him two highest literary awards Sitara-i-Imtiaz and Hilal-i-Imtiaz in 1999 and 2002, respectively.

Yousufi was born on August 4, 1923 in the then princely state of Tonk in United India. His father was the political secretary of the state. Yousufi migrated to Pakistan in 1956 and became a career banker.

Yousufi was widely admired in the literary circles for his unique way of writing and subtle satire.

Literary circles, media persons and fans have expressed grief over the demise of the legendary writer and appreciated his contribution to Urdu literature.

Sindhi Language Authority announces best authors in eight genres


Yousufi's work would make you laugh like a mad man sitting alone. The beauty of his words, the complexity of his thought & the simplicity of his delivery. One has to consult the lughat & then laugh out loud again.
An era of #Urdu language comes to an end #MushtaqAhmedYousufi #RIP pic.twitter.com/7xPvnHHXGo

— Osama Bin Javaid (@osamabinjavaid) June 20, 2018
In the last few decades #Urdu prose has not seen a wordsmith like him.
Mushtaq Ahmed Yousufi's death is not just a loss for Pakistan but for one of the most popular languages across the globe.#RIP #MushtaqAhmedYousufi pic.twitter.com/eBYcmkR2Tm

— Osama Bin Javaid (@osamabinjavaid) June 20, 2018
We met him few months back at his house even at the age of 94 his memory was quite good , he was little depressed , weak & food intake was minimal ,but his presence was huge #legend #greatwriter #MushtaqAhmedYousufi we will miss u forever pic.twitter.com/XynWJvUQ7K

— Shahab Zuberi (@zuberishahab) June 20, 2018


Renowned television anchors and journalists Syed Talat Hussain and Ejaz Haider used the popular micro-blogging site to pay homage to the greatest satirist of our times.


He lived to spread laughter and to put smiles on sad faces. I wonder how he would have described his own departure from this material world. So long #MushtaqAhmedYousufi sahib. Thank you for all you wrote. 😔

— Syed Talat Hussain (@TalatHussain12) June 20, 2018
Mushtaq Yusufi sahib rukhsat ho gai. khaak meiN kya soorataiN hongi ke pinhaaN ho gaeeN. Rest in peace.

— EH (@ejazhaider) June 20, 2018


The chief military spokesperson, Major General Asif Ghafoor, used his personal Twitter handle to pay tribute to the legendary humourist.


Mushtaq Ahmad Yousufi smiles away from us for eternal peace at Heaven.
May Allah bless his soul. Amen. #MushtaqAhmedYousufi pic.twitter.com/FH1wijc0Cj

— Asif Ghafoor (@peaceforchange) June 20, 2018


Imran Khan's Pakistan Tehreek-e-Insaf also took to Twitter to express sorrow over the demise of Mushtaq Yousufi and offer condolences to the bereaved family.


پاکستان تحریک انصاف معروف مزاح نگار مشتاق یوسفی صاحب کی وفات پر گہرے رنج اور دکھ کا اظہار کرتی ہے اور ان کے اہلخانہ کے غم میں برابر کی شریک ہے.#MushtaqAhmedYousufi pic.twitter.com/IPTUFfXAlg

— PTI (@PTIofficial) June 20, 2018