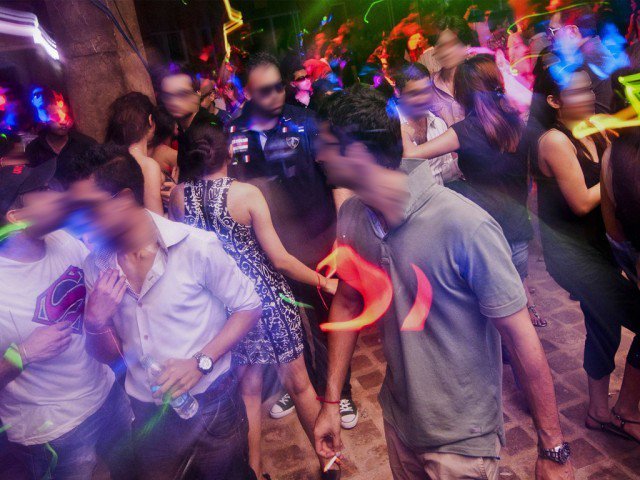 ---
ISLAMABAD: Police have arrested at least 16 men and women for taking part in an alleged dance party and drinking in public at an upscale mall in the heart of the capital early on Tuesday morning.

The Margalla police said they had received a tip-off from the security staff at the Centaurus Mall that a large number of men and women had gathered in an apartment located on the 21'st floor of the mall's building where they were allegedly drinking and dancing to loud music.

Punjab passes resolution banning dance parties at education institutes

Police said they immediately dispatched a squad which included women police officers. When they reached the mall, officers claimed they found several young men and women allegedly drunk and involved in 'obscene and vulgar' acts.

Police said arrested a total of 10 men and six women from the spot and took them to the Pakistan Institute of Medical Sciences (PIMS) where they were administered the alcohol consumption tests.

These detainees were then booked under Section 294 (obscene acts and songs) of the Pakistan Penal Code.

However, all those arrested were released by the police on bail within a few hours of their arrest.

Police officers stated that it was normal since the clause under which they had been charged was a bailable offence.

Earlier on April 28, police in the capital had raided another 'dance party' at a farmhouse near Bhara Kahu and arrested over 40 people, including 25 men and 22 women.

An initial police report on the arrest reviewed by The Express Tribune said that when the law-enforcement personnel raided the farmhouse, they found the occupants involved suspicious and vulgar activities.

The police, however, said that some of those arrested sustained minor injuries as they were misbehaving with the officials and resisting arrest.

Hand grenade attack: 24 injured at spring festival in DI Khan

The suspects were charged with prostitution before a magistrate struck down the allegation and released all on bail the next day.

Police had held those suspects for hours before letting them go.

Man killed

Meanwhile, a man was gunned down in Shams Town within the jurisdiction of Noon police on Monday. Police say unidentified people killed Shahid Hussain after a brief altercation.

No suspect has been arrested as yet.

Hand grenade recovered in I-10

The police on Tuesday recovered and defused a hand grenade in Sector I-10.

The Sabzi Mandi police said the grenade had been hidden in a bush by unidentified people.

Officers said they had received a tip-off about the explosive after which they promptly called in the bomb disposal squad who defused the grenade by dismantling its fuse.

The police said they are investigating the case.

Published in The Express Tribune, June 20th, 2018.
COMMENTS
Comments are moderated and generally will be posted if they are on-topic and not abusive.
For more information, please see our Comments FAQ