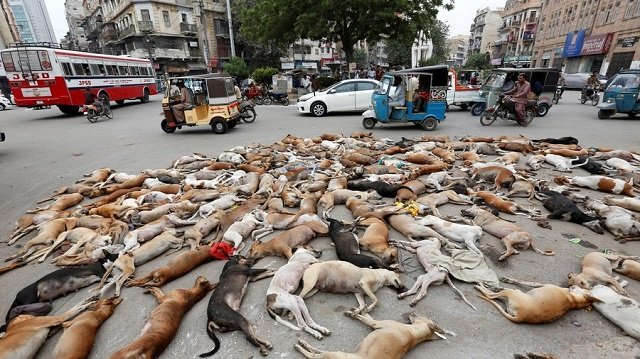 ---
A picture that dispersed all over social media of an alleged dog cull in Russia, actually depicts a drive which was carried out in Karachi in 2016 RT reported.

There were fears there that Russia would repeat history by exterminating dogs in time before thousands throng in the Country for the World Cup.

'100 cases of dog bites reported at Jinnah hospital daily'

But to our surprise Deputy Prime Minister Vitaly Mutko said that the animals would be captured and placed in shelters.

However, all of this drew attention when a twitterati posted a picture that intended to show number of dogs lying dead in a street in Russia. A picture that does show a fraction of dogs but was actually taken in Pakistan.


Dogs killed in Russia before 2018 FIFA World Cup. Enjoy the football! pic.twitter.com/mLxat6tuV4

— йолипали O.Branashko (@AOleksiy) June 15, 2018


Another twitterati by the name of Fabio also ridiculed at the use of Pakistan's picture. The story circulates around how more than 700 dogs were poisoned.

https://twitter.com/fabiocosenza76/status/1008067235754201088?ref_src=twsrc%5Etfw&ref_url=https%3A%2F%2Fwww.rt.com%2Fnews%2F430060-fake-russia-dog-cull%2F

It became a necessity for Pakistan to conduct the dog cull in various cities in 2016 in attempts to secure the masses that live on the streets or walk by. Due to the increase in the stray dog attacks, many have to be admitted in the hospitals.


COMMENTS
Comments are moderated and generally will be posted if they are on-topic and not abusive.
For more information, please see our Comments FAQ