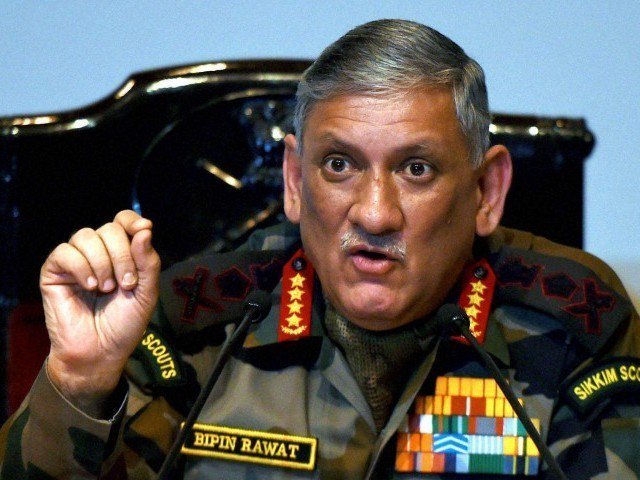 ---
Peace should be given a chance in Kashmir, Indian army chief General Bipin Rawat says.

UN rights chief calls for major probe into Kashmir abuses

The Indian army top boss made the remarks while exclusively speaking with the Economic Times. Rawat also stressed the importance of dialogue to keep the restive region's young away from 'terrorism'.

"Talks must happen. The issue is that a lot of locals are joining militancy. We kill them and more would join. Infiltration can be controlled, but this cycle of recruitment of local youth can go on and on. So…let's give peace a chance and see," he told the publication.

No power in the world can separate Kashmir from India: Rajnath Singh

Rawat largely desisted from shedding light on a probe against Major Leetul Gogoi who made headlines after using a Kashmiri as a human shield. An inquiry is underway. Strongest punishment will be meted out if he is found guilty, he said.

Shehbaz Sharif demands end to Indian brutality in occupied Kashmir

Elaborating on the situation along the nation's frontier with China, Rawat said the situation had "returned to normal" following the recent Modi-Xi summit. "Things at the Line of Actual Control are normal as earlier. We are encouraged by the meetings at the highest level."

This story appeared originally in the Economic Times.