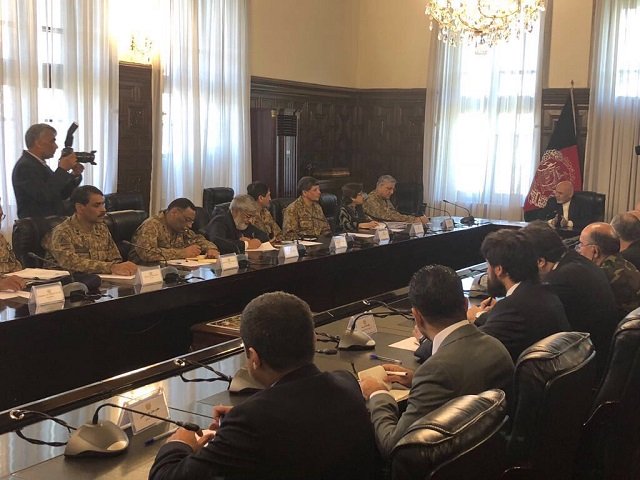 ---
ISLAMABAD: Army chief General Qamar Javed Bajwa and Afghan President Ashraf Ghani held crucial talks in Kabul on Tuesday to revive the moribund reconciliation process.

The daylong visit by Gen Bajwa, who was accompanied by the foreign secretary, the head of the Inter-Services Intelligence (ISI) and other senior military officials, came just days after both Kabul and Taliban announced a ceasefire ahead of Eidul Fitr.

The visit of the army chief coincided with the first day of the landmark ceasefire that renewed hopes for a possible resumption of direct talks between Afghan government and the Taliban. China and Pakistan are thought to have played a crucial role in brokering a ceasefire deal between Kabul and insurgents.

Afghan Eid truce 'backed by Pakistan, China'

Against the backdrop, Gen Bajwa first had exclusive one-on-one meeting with President Ghani followed by delegation-level talks. The army chief also had meetings with Afghan Chief Executive Abdullah Abdullah and Commander Resolute Support Mission (RSM) General John Nicholson.

An official handout issued by the Inter-Services Public Relations (ISPR) said the army chief congratulated Afghan authorities on recent peace initiatives especially in respect of the holy month of Ramazan as well as Eid and wished that the steps gained more permanence ultimately leading towards an enduring peace.

"The discussions encompassed wide range of issues especially the ongoing efforts for reconciliation in Afghanistan, measures needed to check rise of ISIS and the issue of terrorists taking benefit of the porous border to indulge in terrorism, smuggling and drug trafficking, being often networked together," stated the handout.

According to the military's media wing, General Qamar reiterated that "it is the regions and not countries that develop for which peace and development remain quintessential".

He said that having attained relative peace and stability inside Pakistan, efforts were now focused on socio-economic development as a route towards enduring peace and stability.

He said that the recently-agreed Afghanistan-Pakistan Action Plan for Peace and Stability (APAPPS) was expected to bring more cooperation and coordination between the two countries.

Referring to border fencing, Gen Qamar said this was an obstacle for checking terrorism and not between peoples of the two countries.

The Afghan president thanked the army chief for his visit and recent security initiatives undertaken for peace and stability. Ghani also shared contours of his vision about regional development, efforts to extend ongoing temporary ceasefire and steps related to creating conditions for reconciliation.

Afghan Chief Executive Abdullah also thanked the army chief for his visit and the APAPPS initiative. Both sides agreed that "while results of the bilateral initiatives are extremely important, even more important is the continuity of the processes to achieve the end state objectives".

US top commander calls Gen Qamar to condole Sabika's death

Talking to the RSM commander, the army chief said Pakistan desired that US and Nato Forces must succeed and leave behind a peaceful and stable Afghanistan.

Relations between Pakistan and Afghanistan have seen considerable improvement in recent months with both sides working to resolve their issues through a new mechanism.

Last month, a high-powered Afghan delegation, led by its National Security Adviser Haneef Atmar, visited Islamabad to discuss the possibility of reviving the Afghan peace process.

Both sides appear to have covered considerable ground to find a common ground as backchannel efforts are under way to arrange direct talks between the Afghan government and Taliban.

In fact, a senior US general stationed in Afghanistan has revealed that secret talks have already taken place between Kabul and Taliban.