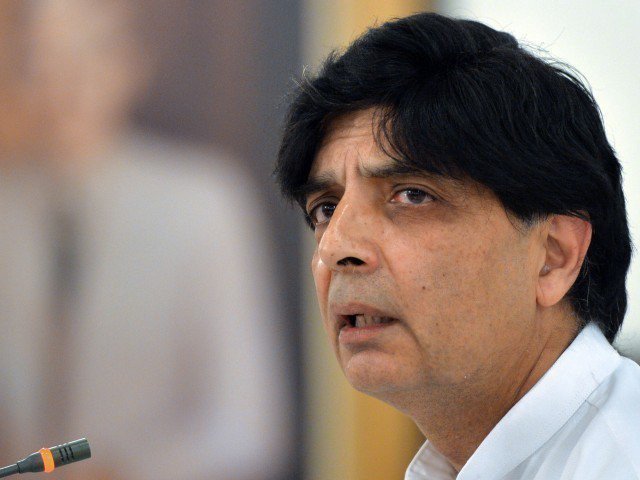 ---
ISLAMABAD: Estranged Pakistan Muslim League-Nawaz (PML-N) leader Chaudhry Nisar Ali Khan took the party leadership to task over their decision to interview prospective candidates before awarding the party ticket for the upcoming general elections.

"I have no idea why this drama is being staged just to not award me ticket," the former interior minister said in a statement.

"It has been my stance that neither am I a candidate for the party's ticket nor do I need it," he added.

Nisar advised the PML-N senior leaders not to ridicule themselves by calling senior leaders to an interview. "I ask people of Jati Umrah neither ridicule themselves via staging such dramas nor me."

PML-N finalises candidates amid differences in cadres

"Has it been occurred (in the past) that senior most members of the party who were elected (to parliament) on numerous occasions be asked to be interviewed before a board (parliamentary board) for party's ticket?" he asked, adding he would express his viewpoint after recovering from his illness.

Meanwhile, Nisar submitted his nomination papers as an independent candidate for four seats – two National Assembly and two Punjab Assembly seats.

The nomination papers were submitted with the Election Commission of Pakistan Rawalpindi office for NA-59 (Rawalpindi), NA 63 (Taxila) and Punjab Assembly's PP-10 and PP-12.

The submissions were made by Nisar's close aide Shaikh Aslam as the former interior minister was on bed rest due to severe backache, according to sources in the PML-N Rawalpindi chapter.

The move, according to party sources, comes as a pre-emptive measure on the part of the former interior minister to counter any situation arising out of the PML-N leadership's decision to not award him party ticket.

Maryam, Hamza appear before PML-N parliamentary panel as 'workers and candidates'

"Without waiting for the party leadership's decision, he (Nisar) proceeded to submit his nomination papers. His plans are clear; Nisar would not apply for the party ticket and he would not wait for the leadership's decision regarding award of the ticket. He plans to contest the general elections come what may," said a leader from the PML-N Rawalpindi chapter, requesting anonymity.

The party leaders believe, by submitting his nomination papers before the PML-N Parliamentary Board's decision regarding award of party ticket, Nisar has "played smartly — to skip all the embarrassment he was to receive in case of being denied the ticket".

The award of PML-N tickets to two heavyweights from Rawalpindi Division, Nisar and Hanif Abbasi, has lately been a bone of contention between the two Sharifs.

Both Nisar and Abbasi are regarded as close aides of PML-N President Shehbaz Sharif but are not in good books of the elder Sharif who is said to be strongly opposed to awarding the tickets to the two stalwarts.

Sources said PML-N members close to the deposed prime minister – including his daughter Maryam Nawaz, Khawaja Asif and Ashan Iqbal – have advised Sharif against awarding the ticket to Nisar.

On the other hand, Shehbaz, Khawaja Saad Rafique, PML-N Punjab leader Rana Sanaullah and their aides support awarding the ticket to Nisar, it is learnt.

Shehbaz to file nomination papers for three Karachi constituencies

Discussions with senior PML-N leaders suggest Nisar's decision to contest the general elections regardless of the party's decision offended Sharif, who is of the view that Nisar should not have announced to contest the general elections before the award of ticket and he should have formally applied for the party for the purpose.

Sources in PML-N Punjab chapter said Nisar takes pride in declaring that he never applied for the PML-N ticket but always got one. "For a person like him, making a formal application for the PML-N ticket is an insult," said a source.