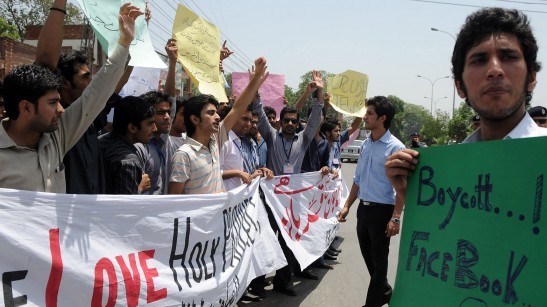 ---


Bangladesh has blocked the Facebook social networking site because of "objectionable" materials it contained about the Prophet Mohammad (PBUH) and the country's political leaders, a telecoms regulatory official said on Sunday.

The government move followed publication of caricatures deemed hurtful to the religious sentiments of the country, the official said. He said the ban, imposed late on Saturday, was expected to be temporary. Facebook was barred last week by a court in Pakistan, also overwhelmingly Muslim, because of an online competition to draw the Prophet Mohammad (PBUH).

The video sharing website YouTube was blocked for a time. Publications of similar cartoons in Danish newspapers in 2005 sparked violent protests in Muslim countries. Around 50 people were killed in 2006 demonstrations over the cartoons. Hundreds of protesters marched through Dhaka on Friday demanding action against Facebook.

The elite security force Rapid Action Battalion on Saturday arrested a man in Dhaka for posting "obnoxious" images of the country's political leaders, including Prime Minister Sheikh Hasina and opposition leader Begum Khaleda Zia. He is being questioned by police, officials said. The blocking of Facebook, popular among Bangladeshis, especially young people, triggered protests by users.

"This was a wrong decision and should be withdrawn immediately," Mohammad Zafar Iqbal, professor of Computer Science at Shahjalal University of Science and Technology, told a television interviewer. "Instead of freezing the whole system, efforts should be made to find and punish the guilty."