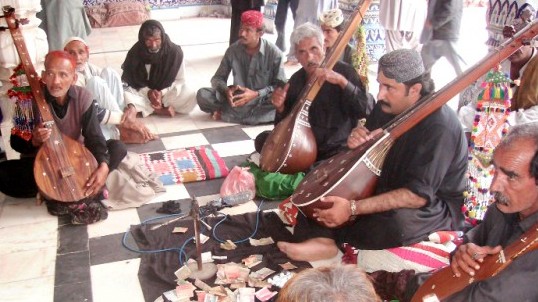 ---
HYDERABAD: After winning hearts across the world, including Australia, Vienna, Spain, Germany and England, it is about time that Ustad Fakir Juman begins his conquest at home.

The 48-year-old Sufi singer has been teaching and singing Shah Abdul Latif Bhitai's raag outside Bhitai's shrine for around 32 years. He teaches the raag at two schools, supervises the same tradition at the shrine and in between takes care of his family and goes across the world to spread Bhitai's message of love and peace.

Six months ago, the devout follower of Bhitai also found the time to participate in Coke Studio, a television series that features live music performances and prides itself on the fusion of traditional and popular music. "It was a terrific experience," Juman told The Express Tribune. "Our music was restricted to a small audience and now this has provided a platform through which we can reach the whole world."

One of the episodes of the show has been aired while the other two will soon come on TV as well, Juman said. He appreciated the fusion of Sufi music with a genre that helps to make it more accessible. Bhitai's poetry illuminates the soul within, it brings out what is deep inside, he explained in reverent exuberance. "It is not about our own personal popularity," Juman said of his fellow Sufi singers and himself. "It is about sending out Shah Bhitai's message to as many people as possible."

Fakir Juman has performed for audiences in several countries, at first with the government's cultural department, and then from 1994 onwards, on private excursions with the likes of Usman and Samina Pirzada. "People in Australia and other places might not understand the language but they understand the meaning of the message," he said.

Juman's schools Fakir Juman is the principal of the Shah Abdul Latif Musical School in Bhit Shah, which was started on July 5, 2007 by the culture department. Along with two other teachers, Juman teaches around 35 students the art of Waee, a singing technique particular to Shah Bhitai and practiced by his followers outside his shrine. "We teach them the etiquettes of raag as well as the musical techniques," he said. "We teach them how to be good people."

Juman wants to improve the condition of the school, expand it and provide his students with every possible necessity including computers but there is just not enough money. The government needs to use its funds for Sufism and the shrines across the province. "If they are preserved and taken care of, the Sufi message can help resolve all our problems," he said.

Juman teaches seven to ten year olds in the government school in two different shifts and then from 10 pm to 12 am he shares his musical experience and knowledge with older people in a private school that he runs. Students at both schools pay no tuition, Juman said. Of Waee and other raag Juman also supervises the raag, called Waee, sung outside the Bhitai shrine everyday from sunset to sunrise.

Dressed in black, different groups of devotees flock to the shrine to translate their love and reverence for the saint into music and poetry. "We serve them tea and then I help to correct their mistakes, give a lecture on the raag and around 8:30 onwards they start their singing," said Juman, adding that the verses were sung to the music of the Tamboura, an instrument that he said was invented by Bhitai himself. The Waee continues till the Fajr prayers ring out in the early dawn, he said.
COMMENTS (2)
Comments are moderated and generally will be posted if they are on-topic and not abusive.
For more information, please see our Comments FAQ