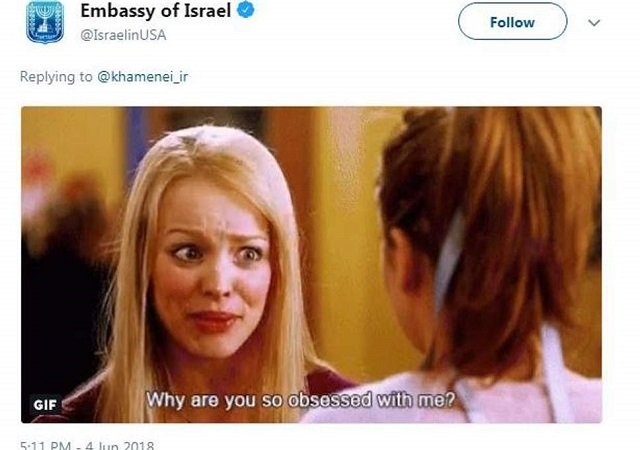 ---
Israel posted a gif from the hollywood chick-flick movie, 'Mean Girls' in response to Iranian Supreme leader's threat to 'eradicate' Israel, on the micro-blogging site Twitter.


The tweet war began on June 3 when Ayatollah Ali Khamenei reiterated Iran's disapproval for Israel, saying:
Our stance against Israel is the same stance we have always taken. #Israel is a malignant cancerous tumor in the West Asian region that has to be removed and eradicated: it is possible and it will happen. 7/31/91#GreatReturnMarch

— Khamenei.ir (@khamenei_ir) June 3, 2018
In response, the Israeli embassy took a jibe at the Supreme leader by posting a gif in which Regina George- a character from the movie played by Rachael McAdams, asks: "Why are you so obsessed with me?"
June 4, 2018
The post became viral on social media, whereby Twitter users were seen frowning and joking that such tweets and snapbacks embodied 'diplomacy in 2018'
Israel's tweet echoed a tactic often employed by Russia's UK embassy, which frequently uses memes to taunt or attack the British government and media – sometimes receiving thousands of likes and retweets in the process.
Iran tells UN it will hike uranium enrichment capacity
The post was retweeted 9,000 times and 'liked' more than 27, 000 times within the same day.


On Tuesday, Prime Minister Benjamin Netanyahu said that Iranian plan to increase its nuclear enrichment capacity was aimed at producing nuclear weapons to be used against Israel.

"Two days ago, Ayatollah Khamenei, Iran's supreme leader, stated his intention to destroy the State of Israel," Netanyahu said in a video posted on social media.

"Yesterday he explained how he would do it – by unlimited enrichment of uranium to create an arsenal of nuclear bombs."