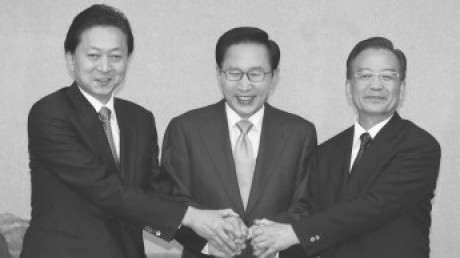 ---
SEOGWIPO: China came under intense pressure from South Korea and Japan on Saturday to join global efforts to punish North Korea over the sinking of a South Korean warship in March.

President Lee Myung-Bak turned the heat up on Chinese Premier Wen Jiabao at a threeway summit with Japanese Prime Minister Yukio Hatoyama in South Korea, as the leaders discussed the sinking, which claimed 46 lives.

Regional tensions have risen sharply since international investigators said a North Korean torpedo sunk the warship, with South Korea announcing reprisals that have sparked threats of war from the North.

"South Korea will focus all diplomatic efforts on holding North Korea responsible in the summit this weekend," Lee's spokesman Park Sun-Kyoo said.

"Japan will sincerely support South Korea," Hatoyama told Lee before they went into threeway talks with Wen, Lee's office said.

The Japanese leader also promised Japan's "leading role" in mustering international support for South Korea at the UN Security Council, Lee's senior spokesman Lee Dong-Kwan told journalists. The talks on the southern resort island of Jeju came after a rare press conference by North Korean military officials on Friday, in which they accused the South of fabricating evidence over the sinking of the 1,200-tonne Cheonan.

Unlike many countries, China has not publicly blamed Pyongyang for the sinking, one of the worst military attacks on the South since the 1950-53 war.

"China is persistent in supporting peace and stability on the Korean peninsula," Wen was quoted telling South Korean Prime Minister Chung Un-Chan hours before joining the summit, according to Chung's spokesman.

"We reject any act that would harm peace and stability."

Wen was also quoted as saying that China attached importance to the outcome of a multinational investigation led by South Korea into the sinking.

The Chinese premier was quoted as telling President Lee on Friday that Beijing would review the probe results in an "objective and fair" manner before determining its position, adding it would not protect whoever was responsible.

South Korea, the United States and Japan, which slapped fresh sanctions on Pyongyang o Friday, are seeking China's support to sanction - or, at least, to censure - North Korea at the United Nations.

Published in the Express Tribune, May 30th, 2010.
COMMENTS
Comments are moderated and generally will be posted if they are on-topic and not abusive.
For more information, please see our Comments FAQ