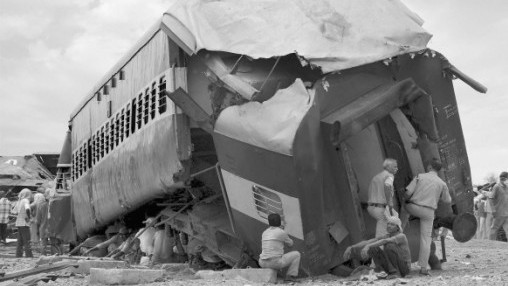 ---
SARDIHA: Indian rescue workers recovered more bodies on Saturday in their gruesome search for victims of a train wreck blamed on Maoist saboteurs, with fears that the final death toll could exceed 150.

More than 30 hours after a Mumbai-bound high-speed passenger train from Kolkata careened off the tracks in a remote part of West Bengal, emergency teams were still trying to cut their way into sections of the mangled wreckage.

"The death toll has now reached 120," Srikumar Mukherjee, West Bengal civil defence minister told AFP, after more bodies were pulled from the worst affected section of the train.

The badly crushed carriage was yet to be fully searched and some 40 passengers were still unaccounted for as rescuers suspended operations for the day due to heavy rains, said Mukherjee.

It was the deadliest Maoist attack in recent memory and is likely to ramp up pressure on the government, which has already been severely criticised for its handling of the left-wing insurgency.

The precise cause of the derailment in the early hours of Friday morning was still unclear.

Railways Minister Mamata Banerjee said Maoists had blown up the track with explosives, while police pointed to evidence that a section of rail had been manually removed.

Senior police officials on Friday had laid the blame squarely at the feet of the rebels, saying several Maoist leaflets had been left at the site of the disaster.

But Indian Home Secretary G K Pillai suggested there was still room for inquiry. "It's likely to be them (Maoists).

There is no one else in the area. But we are still checking," Pillai told AFP.

The incident occurred at around 1:30 am in West Midnapore - a Maoist stronghold around 135 kilometres west of Kolkata.

The Indian Railways Board responded by cancelling nighttime services in a number of Maoist-affected areas until further notice.

Thirteen carriages, most of them packed with sleeping passengers, jumped the tracks and most of the casualties were in the four that collided with an oncoming goods train.

Some of the bodies had been torn apart by the force of the impact and identification would only be possible through DNA testing, said West Bengal police inspector general Surajit Kar Purakayastha.

More than 200 people were injured, some of them critically.

The rebels say they are fighting for the rights of landless tribes and farmers left behind by India's rapid economic expansion.

Published in The Express Tribune, May 30, 2010.
COMMENTS
Comments are moderated and generally will be posted if they are on-topic and not abusive.
For more information, please see our Comments FAQ